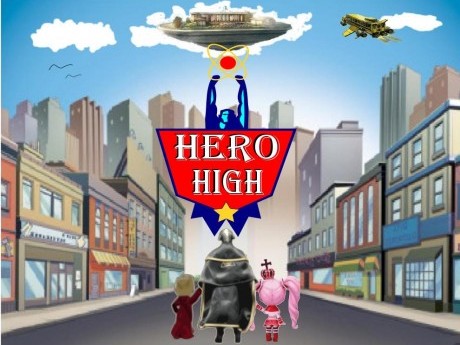 Description
Hero High is a floating high school where young super humans are taught how to use their powers. This establishment was created back in the fifties to help super humans learn to control their powers after one to many incidents. Once a child is identified as a super human they are automatically enrolled by the government and travel to school via a flying bus. Hero High is currently a giant floating school powered by very high technology. The staff of Hero High were former heroes that retired and decided to help train the future heroes of tomorrow. However as each new student will come to realize, being a super human is not all it is cracked up to be. Each student still has to deal with making friends, making enemies, dating, awkwardness, puberty, pimples, popularity, bad decisions and of course school work. To make matters worse the school divides the Heroes and Sidekicks based on the type of powers they have. This of course causes Sidekicks to get picked on by the super bullies who like to show off their powers. As each new student comes to realize they will have to deal with one of many flaws they are born with such as bad looks, no charm, bad parenting, low IQ, insecurity, obsessive disorders, ADHD, weak will or just crappy powers. To join in just make a teenager with super powers and at least one major flaw, then choose if they are a Hero, Sidekick or Staff Member. https://www.youtube.com/watch?v=7XK7aYq4r80
---
Latest story summary:
Hello Folks sorry for being MIA for so long. Due to the current events I find myself with a bit more free time since leaving the house is frowned upon. So whoever is still online we can get a new story rolling again.
Posted by: Jaxx on Mar 23, 2020, 8:53pm
---
Story Posts
Party planning
Mar 30, 2020, 12:35am by LaserSexPanther
Gray shrugged, "nothing that Shar would be to happy about." He said. "As for clothes or what ever. It's a Halloween party so a costume. And don't worry it's not a trick to make you feel stup ...
Showing 4 out of 3732 posts
---
Post Summary
---