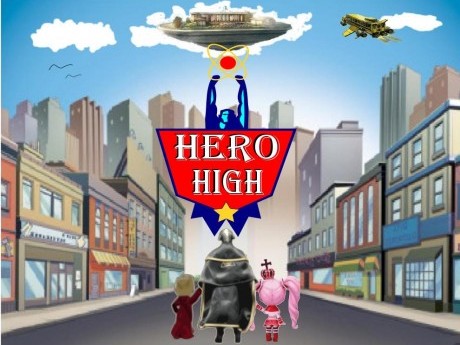 Description
Hero High is a floating high school where young super humans are taught how to use their powers. This establishment was created back in the fifties to help super humans learn to control their powers after one to many incidents. Once a child is identified as a super human they are automatically enrolled by the government and travel to school via a flying bus. Hero High is currently a giant floating school powered by very high technology. The staff of Hero High were former heroes that retired and decided to help train the future heroes of tomorrow. However as each new student will come to realize, being a super human is not all it is cracked up to be. Each student still has to deal with making friends, making enemies, dating, awkwardness, puberty, pimples, popularity, bad decisions and of course school work. To make matters worse the school divides the Heroes and Sidekicks based on the type of powers they have. This of course causes Sidekicks to get picked on by the super bullies who like to show off their powers. As each new student comes to realize they will have to deal with one of many flaws they are born with such as bad looks, no charm, bad parenting, low IQ, insecurity, obsessive disorders, ADHD, weak will or just crappy powers. To join in just make a teenager with super powers and at least one major flaw, then choose if they are a Hero, Sidekick or Staff Member. https://www.youtube.com/watch?v=7XK7aYq4r80
---
Latest story summary:
Its a new year at Hero High as the students have advanced another year. They are looking forward to a better year and hope things have calmed down since the last excursion they were forced to deal with.
Posted by: Jaxx on Sep 22, 2018, 3:58am
---
Story Posts
Plans.2
Oct 22, 2018, 1:21pm by Star
Atshi sat on the couch, moving her pillow out of the way. She cleared her throat, asking the room for their attention. "As we all know, we can't use this apartment as our base. It's very ...
Showing 4 out of 3678 posts
---
Post Summary
---