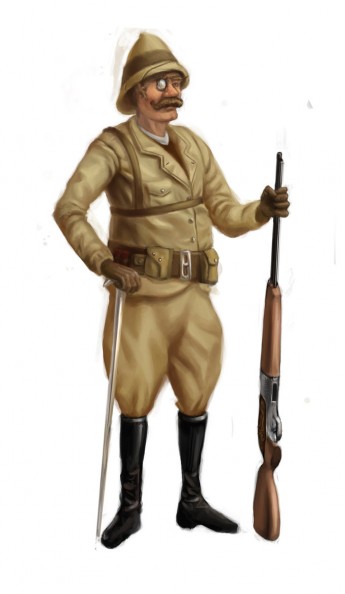 Summary: Looking for the big game
Sir Higgins Barnbuck (NPC)
Owned by: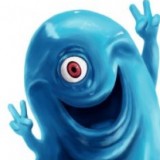 Ghatmilk
Gender: Male
Age: 55
Group: Staff Member
Game: Hero High
Hero/Villain-Nickname
The Poacher
Powers & Weakness
Claims that he has none, However it is evident that the old man has a high resistance to pain and death. Surviving Feats regular humans would have died in.
Despite being Human, Sir Higgins relies on several curse books and Aztec charms to aid him in combat.
His only true power is his custom made pump action Hunting Rifle named "God-slayer", which fires self made specialized bullets and a Large bowie knife made from Alien steel (extra strong)
Weakness: his has no super powers...he is human,a crazy thrill seeking human.
Physical Appearance
Despite his old age and greying hair, sir Higgins maintains himself in peak physical condition to continue is love of extreme monster hunting. Sporting a thick broom mustache, Higgins is never seen out of his khaki hunting clothes (except the multiple occasions he "mans up" and goes shirtless). His body is covered all sorts of scares, each with it's own unique story behind them...but the one he holds the biggest grudge over is his right eye , which was ripped out along time ago, forcing him to wear a pirate patch to hide his embarrassing mistake.
he is 5.9 feet tall
Personality and Interests
Sir Higgins enjoys a variety of hobbies: reading, painting and playing soccer. However he Absolutely cannot refuse a challenge to the death in hand to hand combat or Hunting down mega sized game. Even when he is not "on the hunt" he is usually making new bullets or maintaining his weaponry for future fights.
Sir Higgins does have teaching credentials, but he tries to avoid teaching if he can.
At first meetings, Sir Higgins is proud, well spoken and gentlemen like. But after spending a day with him, people discover that he is highly impulsive, Violent, Somewhat insane and greatly detests "Teenagers" (until they turn thirty usually) , often pushing them harshly for no reason at all. Calling them names or ignoring them altogether if he truly doesn't like them.
Despite all this, there have been rumors that Higgins still harbors a good heart...somewhere.
Flaws
He absolutely cannot refuse a challenge to the death in hand to hand combat or Hunting down mega sized game.
He is also rather pompous in his ways.
History
Once an ordinary history teacher, Higgins thought he'd spend the rest of his life teaching secondary school children world history. until his 28th birthday , while coordinating just another regular school day, A infamous super Villan held the school at ransom, releasing deadly raptor mutants across the school grounds. Naturally a Super Hero came to save the day, However Sir Higgins was no longer content to stand around and do nothing, Deciding to continue his families proud tradition of large game hunting...Sir Higgins helped the hero thin the mutant raptors numbers and eventually take down the villain. Forming a perfect partnership, Sir Higgins served as the Hero's loyal sidekick on many missions.
Until one unfortunate day where the hero converted to a villain. forced to kill his once friend and partner, Higgins turned into the bitter man he is today. Thinking that only the "tough" can remain loyal to the side of good, Sir Higgins toured the worlds challenging the biggest monster villains the world had to offer.
As the years creep closer to retirement due to his moral weakness, Sir Higgins decided he'd Apply to "teach" at the renowned Hero high...to supposedly teach a new generation of sidekicks, but really this is just a front to await for the various thrill the school has to offer.
Favourite Sayings
My boot is patiently waiting to Boot your arse!- Angered at foe
This should be fun-entering a fight
Don't waste my time- to student
---
This character is owned by: Ghatmilk
Character questions
Recent Activity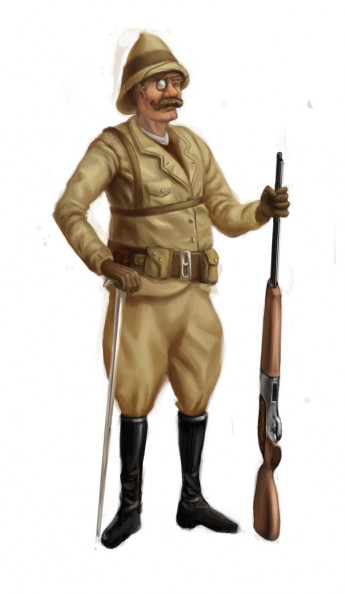 Mentioned in the post
Next Day
Mar 26, 2020, 1:50am
Updated character profile
Sep 19, 2018, 10:20am
Updated character profile
Mar 17, 2018, 7:42pm
Updated character profile
Aug 25, 2017, 6:37pm
Mentioned in the post
Resistance
Aug 25, 2017, 5:50pm
Mentioned in the post
Burn
Aug 25, 2017, 2:37pm
Updated character profile
Jul 16, 2015, 11:31pm
Updated character profile
Oct 20, 2014, 6:46am
Updated character profile
Oct 20, 2014, 6:46am
Updated character profile
Oct 20, 2014, 6:46am
Updated character profile
Oct 19, 2014, 10:10pm
Updated character profile
Oct 19, 2014, 10:10pm
Updated character profile
Oct 19, 2014, 10:10pm