Summary: An ice mage (and secretly a necromancer) trying to learn other skills
Alvin Archer
Owned by: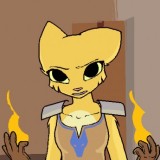 wisdom
Gender: Male
Age: 137
Group: Students
Game: High School for Magical Beings
Nationality
Fey Lands
Race
Elvin
Rank/Title(if any)
Apprintice
Physical Appearance
smooth and slightly pale skin. He has long flowing red hair and soft blue eyes. A snowflake birth mark is below his right eye and is the only flaw on his face. He is often mistaken for a girl by humans and his clothing gives away no indication of gender. Has a height of 6'0"
Personality and interests
He is kind and helpful when he can be. He likes learning new things, but caries his parents disappointment for his love of ice magic. He wants to become the best ice mage the Fey have ever seen, but he tries to learn other magics to make his family happy.
Because language is not magical based he enjoys learning them because it is something other than ice magic that he can excel at and it makes his parents less upset. (For my convenience he can speak any language on google translate.)
History
Born to an influential elf family known for it's magical prowess in all fields he had large expectations from an early age. At first his family was excited at his natural gifting for ice magic and elemental control of water and temperature. Excitement turned to disappointment when he was unable to learn any other forms of magic. His family went through many magic tutors before giving up and sending him to the "High School for Magical Beings"
He found his talent for necromancy shortly after his initial falure to learn another form of magic, but was old enough to keep it hidden. He is bound to the first necromancer through an ancient spell which gives him his power and talent with ice and death. (the first necromancer was a Luminocarnis who in his persuit of knowledge learned how to manipulate life starting with water, then ice, and then becoming the first necromancer and abandoning his life for becoming the first Lich King. This turned everyone against him despite his initial good intentions. Before his destruction he bound his soul with beings in the future gifting them with talents over different parts of his power. One such being is Alvin.
Favourite Sayings
"So what if I can't do everything? I am good at what I can do."
Magic abilities (3 max please)
naturally gifted with ice magics. Not very good at other forms of magic.* (They usually end up frozen)
He is ok at necromancy, but he doesn't make it public knowlege
Mod notes...
Necromancy... *shudders*
First character I made for the game.
---
This character is owned by: wisdom
Character questions
Recent Activity
Mentioned in the post
Seasick
Jan 6, 2019, 8:13pm
Updated character profile
May 1, 2016, 3:04am
Updated character profile
Apr 30, 2016, 12:19pm
Updated character profile
Apr 30, 2016, 12:19pm
Updated character profile
Apr 30, 2016, 12:19pm
Updated character profile
Apr 30, 2016, 12:19pm
Updated character profile
Apr 30, 2016, 12:19pm
Updated character profile
Apr 30, 2016, 12:19pm
Updated character profile
Apr 30, 2016, 12:19pm
Updated character profile
Sep 28, 2015, 11:35am