Summary: You know that dangerously crazy yet charming jerk your cat is?? Well this is him.. as a person.
Narubono (Naru) Kala (NPC)
Owned by: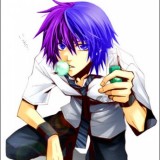 Keantrik
Gender: Male
Age: 88
Group: Students
Game: High School for Magical Beings
Nationality
Comes form a parallel universe similar to Alice in wonderland.
If that is the story.. He is basically the cat.
Race
Aplha-Hume (elongated life span that of human)
Rank/Title(if any)
Nothing I'd say.. Besides a stray.
Physical Appearance
5"11
Rather thin and lean
Pale skin
Pink eyes (cat like)
Seafoam scene hair.
Black nails
Long canine teeth.
Huge smile (can be easily creepy
Personality and interests
Loves to be lazy. Loves to eat
Tea is lifestyle.
Meditation, yoga.
Hippie stuff.
Stones. Gems. Shiny things. Losing his mind from time to time he finds it.
History
Narubono was a stray his whole life. Making it easy to cut ties. He got a floating letter in his tree home one day in the wood. Inviting him to school.
Normally he'd toss it away but he found that the school being in another world made things worth getting out of bed for.
Favourite Sayings
Well well..
I'm over it..
How exciting!!
Magic abilities (3 max please)
Dissapear (1 min)
Puppet magic (3 mins) dependant of the will of the subject, Naru can range from a strong willed person to being slowed or immobilized. While the weak willed are manipulated easy down to being able to control a subject choice of words and movements. It varies widely (:
Mod notes...
would be nice if you explain puppet magic a little.
Great character
((Okay!! Np ))
---
This character is owned by: Keantrik
Character questions
Recent Activity
Mentioned in the post
Seasick
Jan 6, 2019, 8:13pm
Updated character profile
Oct 13, 2018, 4:18pm
Mentioned in the post
Undeclared
Sep 30, 2015, 6:14pm
Mentioned in the post
School
Sep 30, 2015, 2:54am
Mentioned in the post
Orientation
Sep 30, 2015, 12:03am
Updated character profile
Sep 26, 2015, 1:29am
Updated character profile
Sep 25, 2015, 2:26pm
Updated character profile
Sep 25, 2015, 12:46pm
Updated character profile
Sep 25, 2015, 12:45pm
Updated character profile
Sep 25, 2015, 6:24am
Updated character profile
Sep 25, 2015, 6:22am