Summary: Helps Undeclared students learn basic magic and find classes or tutors that will help them focus.
Moses Riversong
Owned by: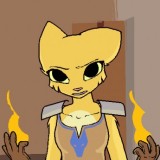 wisdom
Gender: Male
Age: 432
Group: Teachers
Game: High School for Magical Beings
Nationality
Atlantian
Race
Merfolk
Rank/Title(if any)
Land-side Ambassador
General studies teacher
Substitute teacher
Physical Appearance
Blue with red patterns on his fins. He wears only pants when he is out of the water. He still finds them uncomfortable.
Personality and interests
He is interested in a wide range of magics and although he has mastered none he is good at recognizing talent and helps students with undeclared majors find where they fit best or helps them find the next thing they want to master. He also helps other teachers by covering their classes when they can't.
History
He was the son of a Merfolk nobleman and had a skill and passion for politics and magic. After graduating the Atlantis school of Magic and Atlantis school of law he became an ambassador of the merman king. He has been serving at H.S.M.B. teaching at the request of Merlin trying to strengthen relations between the land and the sea dwellers.
Favourite Sayings
"Your still wet behind the ears." or "You show great potential."
Magic abilities (3 max please)
Fluent in all master in none (only legal magics) most of the magics he knows can be used underwater safely.
Mod notes...
Anyone with better understanding of Merfolk feel free to make suggestions.
http://www.dandwiki.com/wiki/Merfolk_(4e_Race)
http://tribality.com/2015/01/02/5th-edition-aquatic-races-merfolk/
http://www.enworld.org/forum/showthread.php?7082-Aquatic-Races-Merfolk
---
This character is owned by: wisdom
Character questions
Recent Activity
Mentioned in the post
Seasick
Jan 6, 2019, 8:13pm
Mentioned in the post
Beach time
Dec 31, 2018, 9:26am
Mentioned in the post
Koi pet
Dec 17, 2018, 2:43am
Mentioned in the post
Fish tales
Dec 16, 2018, 3:17pm
Updated character profile
May 4, 2016, 8:46am
Updated character profile
Oct 24, 2015, 11:42pm