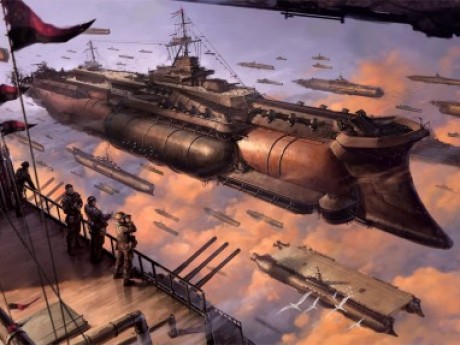 Description
Pacific Airships is a Diesel/Pre-Atom-Punk game set in an alternate pre-WWII timeline. Players assume the roles of captains or crew members of various airships belonging to one of many factions. While relations at the moment are tense between the United States, the United Kingdom, the Netherlands, and the Empire of Japan, these forces are not yet at war. However, the Pacific Ocean is a big place, and accidents and incidents can happen easily...
Can the crews of the Pacific work together to keep their vessels in the air, or will the coming war forever render the airship useless? Only you can decide.
Of course, there are rules, guidelines, and expectations to playing this game.
1- All posts must be readable. I do not expect grammar to be perfect at all times, but I don't want posts to look like this "lul i keld da nazi".
2- This game will feature violence, and likely graphic content. For that reason, it is advised that only players okay with reading this kind of content join the game.
3- Sexual content, on the other hand, will happen off screen. Your smut will not be allowed to derail the story, and all sexual encounters should happen "off-screen", where it is hinted at but not described. Sex takes time, and if your characters are having sex one minute, they will have a hard time responding to certain situations the next, so be sure to role-play that. Sexual encounters must also make sense. Don't just screw around for fun, that is bad role-playing and will not be tolerated.
4- Fictional technology exists, but make sure it makes sense with the timeline! If you have any questions, contact me first!
5- This last rule is pretty simple, be respectful of your fellow players, and be mindful that this is a story we are telling together, not a game we are fighting for.
---
Story Posts
Arrival
Sep 17, 2016, 2:02am by Tedwar15
There was no sight quite like a tropical oasis in the middle of an expanse of ocean, but Daisuke did not feel the same sense of enjoyment he usually experienced. His mood was dampened by the ...
Showing 4 out of 102 posts
---
Post Summary
| | Jan | Feb | Mar | Apr | May | Jun | Jul | Aug | Sep | Oct | Nov | Dec |
| --- | --- | --- | --- | --- | --- | --- | --- | --- | --- | --- | --- | --- |
| 2016 | | | 92 | | | | | 7 | 2 | 1 | | |
---