Summary: I will squeeze every breath from your body if its the last thing I do
Victor Thomas
Owned by: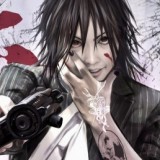 Luckus93
Gender: Male
Age: 424
Group: Red Vampyre
Game: House Of Night
Year (If Fledgling)
Unkown
Gift & Description
Shape shifting= reptile
12ft anaconda (Corpse-like appearance, missing scales white dead eyes)
Physical Appearance
Short black hair, pale skin, red eyes when feeding and green when not, Scars on face and body. Mark :Tribal snake design down both arms and chest.
Personality and History
A sarcastic and cynical warrior with a hint of insanity.
Is a old teacher of the house of night, he was killed in battle in 1872 and was brought back by a resurrection spell by an old red vampyre who than recruited him to train and create more red vampyre for the centuries to come. But being the warrior he was he refused so he was torture for years until he submitted and agreed to train and recruit After the battle in 2004, while he was distracted he killed the old red vampyre and has had his freedom ever since. He holds a grudge towards the school and head priestess, he blames them for his torment since they never found him after he was taken.
He works as a hired mercenary while he plots his revenge towards the school.
Class (If Teacher)
Retired (lol)
Job (If Staff Ex: School nurse)
Was the main teacher for warriors of night
Familiar (Max 1)
a crow with red eyes that he named jocko
Death (If Red 'V' & Red Fledglings)
During battle
---
This character is owned by: Luckus93
Character questions
Recent Activity
Mentioned in the post
Spider
Aug 27, 2017, 6:32pm
Updated character profile
Sep 22, 2016, 11:05am
Updated character profile
Sep 22, 2016, 11:03am
Updated character profile
Sep 22, 2016, 11:03am