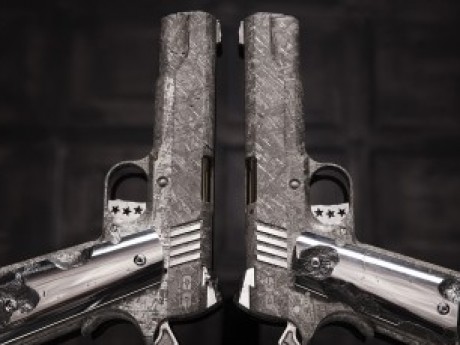 Description
Welcome, stranger, to Gatling City! We're a fairly peaceful people (minus the blood and gore that goes on in the Gunble Arena). We're also a city that REALLY likes our guns! Especially since that huge bullet shaped mountain appeared outta nowhere. Now we got all sorts of weird weaponry and tons of nice gadgets. Things work fairly easily around here! When you show up, you go and get registered and collect a rank. It's really low at first. But if you enter the mountain and battle all sorts of weirdness, you'll always come out with a gun completely outta the ordinary! Then you can go to the Gunble Arena and battle other gun toters for a better rank, their own guns, or just for fun! And in conclusion, GUNS! Get a good enough rank and you'll be allowed to leave! But that'll never happen. You'll be having too much fun! And cause you have to have the highest rank possible and beat the Champion. Either way, welcome to Gatling City! Shoot 'em up!
(Basic rules! READ BEFORE YOU JOIN!
1. No one can be in the Royal Gunners or Champ's Circle, except mods or unless given permission!
2. You get only one gun when you enter the city, with no special attributes but never runs out of bullets.
3. To get more guns, head to the mountain and get your killing spree on! Kill whatever you want! People even! (This does not include other players, unless given permission)
4. The Arena and Mountain are a Free for All zone. The City itself is a peaceful area. NO KILLING OUTSIDE THE ARENA OR MOUNTAIN!
5. The deeper into the mountain you go, the more difficult the enemies! But the guns you collect become much more badass!
6. Teams ARE allowed in Gunble Arena! But your rank won't rise as quickly!
7. When collecting guns after your killing spree, go nuts! They can be deadly, weak, or totally insane! But don't go over the edge! There's still such a thing as OP here!
8. Have fun! DON'T DIE!)
---
Story Posts
Onward
Jan 4, 2017, 5:04am by DavidFrost
He grinned and said "Now that's the spirit" he quickly took out his crossbow before making sure that it was functioning smoothly. "Then onward to the mountain of despair." He joked, bris ...
Showing 4 out of 406 posts
---
Post Summary
| | Jan | Feb | Mar | Apr | May | Jun | Jul | Aug | Sep | Oct | Nov | Dec |
| --- | --- | --- | --- | --- | --- | --- | --- | --- | --- | --- | --- | --- |
| 2016 | | | | | | | | | | | 142 | 261 |
| 2017 | 3 | | | | | | | | | | | |
---
Moderators
The Gamemaster
Members
There are 7 members in this game
Pending Members
There are no pending members in this game