Summary: A skilled blade runner.
Dave Bullock
Owned by: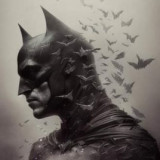 Avenuewriter
Gender: Male
Age: 35
Group: Blade Runners
Game: Blade Runner: New York
Job/Skill
Blade runner.
Skills: Replicant detection and acquisition. Firearms and marksmanship.
Rank/Title
Blade runner
Physical Appearance
Dave is of average height and build. He has cool gray eyes and brown hair. He's typically seen wearing a worn trenchoat and street clothes.
He has a large scar on his chest that runs from the top of his sternum down to his groin. The origins of which was from a previous case where a rogue replicant was murdering people in the slums and vivisecting them.
Personality and interests
Dave is a somewhat sour individual. He's quiet and has hardly any friends. He spends most of time working, and those that know him say he's got no life outside of the job. Though he is very good at his job.
He is dedicated to his work, and will relentlessly pursue any replicant he comes across. Though his approach to the job is a cool detachment, unlike many of the other blade runners who seem to gleefully hunt down their targets.
When not on duty, he's typically in his apartment where he listens to old music and drinks.
History
Dave grew up in the slums of the Old City. Abandoned by his parents as an infant, he was raised by a woman he came to call his "aunt." He was constantly getting into trouble, committing petty crimes and vandalizing property. However, he soon found an interest in law enforcement after getting arrested for setting an abandoned house on fire.
He put himself through school and joined the academy at 17, acing most of his classes and earning a medal for marksmanship. He proved to have a keen instinct when it came to sussing out replicants, and he was soon transferred to the blade runner unit where he developed a reputation for being relentless and efficient. The other blade runners nicknamed him "Bloodhound" as a result.
His most notorious case was when he was tasked with retiring Clarke Preston, a rejected replicant that had managed to escape being recalled and retreated to the slums of the old city where he began to kidnap and vivisect random people. Dave was nearly his last victim, but thanks to some ingenuity, backup, and a lot of luck Preston was successfully retired. Dave bears a nasty scar from the ordeal, and he's not willing to share any details about the case and what transpired.
Favourite Sayings
"When you pull the trigger, you'd better be sure it's a replicant."
---
This character is owned by: Avenuewriter
Character questions
Recent Activity
Mentioned in the post
Skin Row
May 12, 2017, 12:09am
Mentioned in the post
Initiation
Apr 21, 2017, 12:20am
Mentioned in the post
Shorts
Apr 20, 2017, 10:08pm
Mentioned in the post
The Clinic
Mar 24, 2017, 8:03pm
Updated character profile
Dec 23, 2016, 2:10am
Updated character profile
Dec 23, 2016, 1:51am