Summary: A burnt out cop with few morals.
Gunner Abrams
Owned by: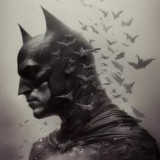 Avenuewriter
Gender: Male
Age: 43
Group: The Police
Game: Criminal Activity: Gangland
Nationality
American
Job/Skill
Detective in the DCPD's Vice Unit
Personality and interests
Gunner is a somewhat impulsive and selfish person. He got into police work for the glory, and has only managed to find disappointment. Years of working the streets have ground him down, and he's as dirty as most cops come.
He also has a bit of a temper that tends to get the better of him. As well as a on-off relationship with drugs.
History
Gunner was born and raised in Dark City. His father was a construction worker and his mother was a drunk. He was the middle child of three, his older brother quickly fell into one of the many gangs while his younger sister became a nurse. His father died when he was a teenager, leaving him to care for his disturbed mother and younger sister.
However, when his mother started to make sexual advances on him he left and took his sister with him. He doesn't know what happened to his mother afterward, though he figures she died in a ditch somewhere. He's not on good speaking terms with his sister, who thinks he's wasted his potential and has turned into a monster.
His career as a police officer has been a checkered one. With numerous complaints filed against him over the years, and a few lawsuits he managed to skirt by the skin of his teeth. He eventually graduated to detective and was put on Vice where he resides today.
---
This character is owned by: Avenuewriter
Character questions
Recent Activity
Mentioned in the post
Stay
Jun 20, 2017, 5:37am
Mentioned in the post
Fallout
May 31, 2017, 1:08am
Mentioned in the post
Replies
May 22, 2017, 9:55pm
Mentioned in the post
Group
May 8, 2017, 3:24pm
Mentioned in the post
Replies
Apr 18, 2017, 2:42am
Mentioned in the post
Group Post
Apr 17, 2017, 9:40pm
Updated character profile
Mar 1, 2017, 8:48pm