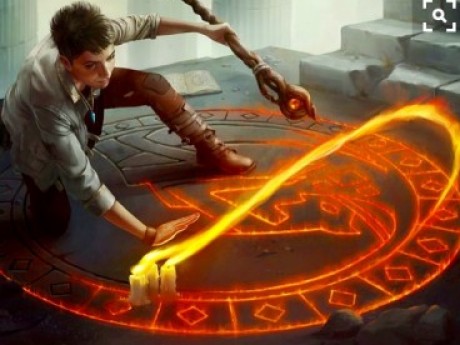 Description
This is a Play-By-Post set up for a group of friends who meet up every so often to tabletop Mage: The Ascension. Here is where we will post our in between session stories. This is mostly for cinematics and down times, not meant for intense dice rolling scenes or combat.
So far:
Chris and Josh have been having a strange kind of week. Initially beginning with lucid dreams (or nightmares) our characters find themselves woken from very turbulent sleep covered in perspiration and initially confused about which reality is the "dream." Josh was lulled by a gothic garbed damsel whom explained to him that the gods are real. When Josh inquired as to which ones she was talking about, she responded "all of them!" Initially disregarding her comments, she ask "when was the last time you prayed to them? Truly?" After a brief conversation and display of her "Magick" Josh was determined that THAT is what he wanted! And so the initiation began and he found himself suddenly in the cold wilderness...... alone with nothing to accompany him but a strange artifact of an egg from his domicile. One month passed by and in order to survive he enlisted the aid of a pack of wolves........somehow? After a month he was greeted by some elders of the proclaimed Verbena Tradition. Vlad, a young Russian member, said in a strong Russian accent, "Good, now your training can begin.....lets go to town and get shit faced!"
Chris, however, noticed a strange anxiety and lust for adventure that he couldn't seem to sated. One sleepless night he sprung from his chair in response to his daughter screaming. Upon arrival he noticed that his daughter seemed to be deep in a horrifying nightmare. After coming to her bedside, she seemed to calm down without waking. Chris noticed some shadows move under her bed. Leaning down to investigate, he sees nothing out of the ordinary. However on his way up he comes face to face with a black insectoid like creature with teeth that belonged to a Angler Fish. After a brief tussle the creature mysteriously vanished, but left Chis with a large bite wound to remind him that he was not imagining this encounter. Later as one day he has a strange text box begin to talk to him on his computer screen. After following its instructions to a tech show downtown he just happened to win a VR headset in a raffle. Upon arriving home and dawning the VR set, he was transported to a virtual world where he met V3lve7 932. She introduced herself as a sort of recruiter for a group named the Virtual Adepts and she would teach him to hack the "reality" that he thinks he lives in. Shortly after a strange but gorgeous woman dressed in Victorian era clothing practically barged through his door and made some tea......? She eventually convinced Chris to be transported, via some sort of clockwork contraption to a new plane of existence. There they talked over tea served to them by clockwork, steam powered cyborgs. She, like the other recruiter, explained that she was part of a Tradition of Mage-Engineers called the Sons of Either. The recruiter handed him a mysterious card made of bronze gears and told him that if he was interested in learning the true potential of reality......activate the card....
Then my face melted off.....
---
Story Posts
A Meeting
Mar 30, 2017, 4:18am by Redsky42
"Just, uh.....a moment!" I call out, trying to figure out how to NOT look like a complete, classless slob. I grab my shirt and pull it out in front me, actually seeing it for the first time ...
Showing 4 out of 9 posts
---
Post Summary
We're only able to show post summaries on games with 20 or more posts.
---