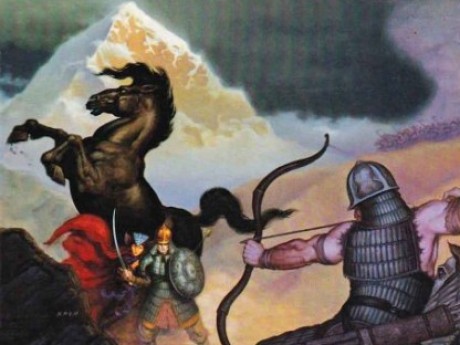 Description
There are those who say that absolutely anything can be found in the Hidden Kingdom. Power, wealth, romance, it is all there for the taking should one know where to look for it. They are probably right. In the Hidden Kingdom, anything is possible.
Between East and West, between Earth and Sky, lies the Endless Waste. Barren and desolate, this windswept land forms the barrier between the feuding kingdoms of Faerun and the ancient empires of Kara-Tur. The eternal steppe is home only to the hardy, nomadic horsemen who travel its secret paths.
This region, long ignored by its neighbors, is about to erupt in the bloodiest conflict ever to sweep across the Forgotten Realms. Yamun Khahan, Emperor of the Tuigan, has united the barbarian tribes into an unstoppable horde. Already he rules the steppes, from the Cave of a Thousand Gods to the Valley of the Dog-Men. Driven to conquer, Yamun Khahan looks both east and west, and sees a world ripe for harvest.
Into this conflict, you arrive.
The mountains rumble under the thundering hoofbeats of forty thousand barbaric horsemen. You find yourselves in the middle of their path. There is no choice except to flee.
Your journey takes you into the forbidden kingdom of Ra-Khati, a land of ancient mysteries and untold wealth nestled deep within the Katakoro Mountains. As honoured guests, you are invited to partake of its extravagance. Wealth, power, romance - anything can be yours for the asking. That is, anything short of your freedom!
However, when invaders threaten the Hidden Kingdom, you are given a chance to earn your liberty. The Dalai Lama entrusts to you the task of escorting a spoiled princess and her dowry, a ferocious black stallion, to a nearby kingdom as a bribe to stop a war.
Easy enough, you say?
Perhaps it would be, except for the small fact that inbetween you and this kingdom are forty thousand bloodthirsty riders and a vengeful purple dragon.
---
Story Posts
OOC - Re News
May 20, 2017, 2:10am by Wolf-of-Grey
Hope things work out for him and he can soon return to the game. ...
Showing 4 out of 194 posts
---
Post Summary
| | Jan | Feb | Mar | Apr | May | Jun | Jul | Aug | Sep | Oct | Nov | Dec |
| --- | --- | --- | --- | --- | --- | --- | --- | --- | --- | --- | --- | --- |
| 2017 | | | 17 | 117 | 60 | | | | | | | |
---