Summary: I'm... broken... but willing to try for you.
Emily Wake
Owned by: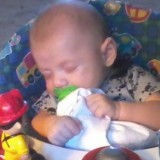 Rhiannon
Gender: Female
Age: 28
Group: Psychic
Game: The Dark Series
Nationality
American
Job (see game info)
Mother
Special abilities (see game info)
Sense danger, sees visions, can't be compelled by anyone with the intent to kill at the time they try to compel her, and an ability hidden by her forgotten past, though it seems she can feel the spirits of the trees and can call weapons if her desire to protect loved ones is strong enough.
Physical Appearance
-----
Personality and interests
She enjoys reading, writing, gaming, and drawing.
Emily is scared of many things, but mostly heights and the dark.
She is shy at first, but once you get to know her, she is very talkative. She tends to feel alone in a crowd, but crowded when she is alone in a room. She has a dark sense of humor, easily cries, kind, and very loving.
Few people can make her super angry, but she rarely gets upset with people, and doesn't get violent. When she gets angry with someone, she starts to get tunnel vision. If she gets angry enough, she will black out and not know what she does.
History
Her father verbally abused her and her sister when they were little. Despite her fear and hatred of him, at age 16, when he died, Emily cried. At age 23, Emily became pregnant and gave birth to a handsome little boy, who is now four years old.
Out of her five sisters, Emily is the only one that displayed psychic abilities. She sometimes gets feelings of danger and visions. One that has plagued from the time she was eight was a prince in a cave that turned out to be a monster and someone special the accidentally trapped inside. She knows it was more than just a dream. When her dreams are visited by a mysterious and alluring man with green and silver eyes, she becomes determined to find him. However, he continues to hide from her.
Lifemate (if not yet bonded leave blank)
Ambrose Daratrazanoff
---
This character is owned by: Rhiannon
Character questions
Recent Activity
Updated character profile
Aug 31, 2019, 7:10pm
Mentioned in the post
A New Day?
Aug 17, 2019, 12:01am
Updated character profile
Sep 2, 2018, 9:11pm
Updated character profile
Jul 12, 2018, 2:24am
Mentioned in the post
Lost 3
Jul 10, 2018, 9:03pm
Updated character profile
May 4, 2018, 4:51pm
Updated character profile
May 4, 2018, 4:27pm