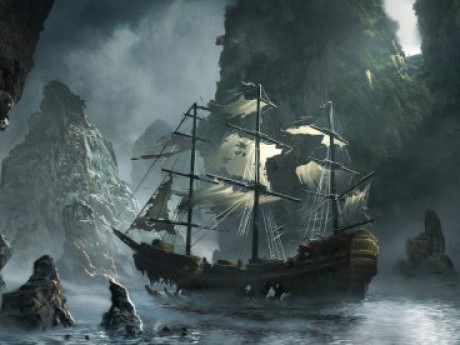 Description
I, Captain Grayn of the good ship Endurance and my crew have been sailing these seas for what seems to be an eternity now. Our food and water stocks are dwindling, and morale is slowly but surely ebbing away. Soon I fear we will have outright mutiny. I have lost track of time and tide, ever since that fateful, foggy night when the stars changed. We lost our course, and ever since we have sailed in a straight line. We sail in the hope of reaching shore, or seeing some sort of landmark that will allow us to get our bearings, yet with each day that passes there is nothing. There is nothing but the endless ocean and the gray-tinged sky. I am truly beginning to believe that wherever this cursed ocean is, there is not, and never will be, an end to it.
And if that is not bad enough, I'm getting reports off the crew as to strange happenings occurring at night. They come to me with tales of ghostly wailing, or shouts of anger coming from the foredeck, yet when they go to investigate, there is nothing there. Worse than that, there have been sightings of a ghostly child drifting around belowdecks, searching for someone called "Clara".
But wait, something comes on the horizon, a shadowy form. Perhaps finally, this is an end to this cursed never-ending voyage.
***
Through the dense mist, a dark shape materializes and looms near. It is another sailing vessel, yet this one bears signs of a long and deadly life. The hull displays huge, gaping holes, yet water passes through the gaps without filling the breached hold. The rigging and sails hang in limp, tangled shreds, yet the ship moves forwards quickly despite the lack of wind. The decks and hull show signs of rot, and if the ship was ever painted there is no sign of it now -- the colour long ago peeled and flaked away. The masts creak and sway, looking fragile and rotted.
The vessel's crew then appear on deck, first ten, then sixteen, then two dozen sailors doomed to this sea of eternity in their unlife. All are dressed in rages that are barely recognizable as the dress of choice of pirates. They resemble humans, but their flesh is decaying right on their bodies. Where fingernails once were, long claws jut from grimy digits. Sharp fangs fill their rotting mouths. Most of them clutch rusty sabres, cutlasses, scimitars or long swords. As the ship nears, her name can be made out burned into the bow.
The Eternal Torture.
***
It began with a crudely written advert.
"Handsum Payment for ezee work!!
If ye r willing sea-goers with strong stommicks seeking brieef adventur, reeport to tha good ship Endurance berthed at the lokal doks. I reekwire intrepid soles to fill out a crew for a herried deelivere voyage. Ye may reetern to this port or reemane at tha destinashun. Appeer before sundown - we sail at dawn! No land lubbers need apply!"
When you signed onto the Endurance, you thought it would be an easy delivery job and a chance to make some easy money. What you found was anything but - a haunted vessel destined for an island of the dead.....
Dare you step aboard the Ship of Horrors?
---
Story Posts
OOC - News
May 19, 2017, 2:03pm by Sil
Hey guys, maybe it's not my place but I just thought I should give you a heads up anyway. Valen had some pretty bad news and needed some time away so game updates may take some time to come ...
Showing 4 out of 64 posts
---
Post Summary
| | Jan | Feb | Mar | Apr | May | Jun | Jul | Aug | Sep | Oct | Nov | Dec |
| --- | --- | --- | --- | --- | --- | --- | --- | --- | --- | --- | --- | --- |
| 2017 | | | | 20 | 44 | | | | | | | |
---