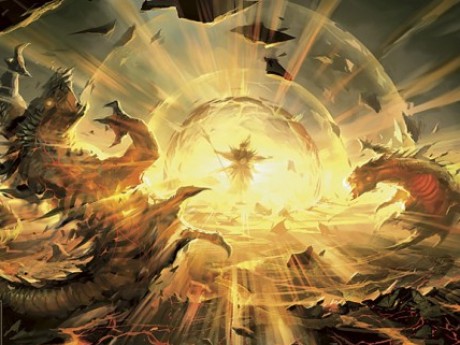 Description
100 years ago the Mage Wars ended, leaving a trail of destruction across the land. The wizards of the time were great powerful beings who were willing to go to great ends for power. Their eyes were set on more than just seats of powers; their eyes were on the heavens.
They challenged the gods themselves.
After a sixteen year war the Mage Rebellion was finally put to rest; the result of mass destruction of land and people, and the death of four gods.
There are parts of the land that echo with the effects of great magic, peculiar areas where the laws of nature don't apply; magic dead zones, where known magic items fail (and it is rumored that no magic will work); forests of twisted trees and hums of energy in the air; pockets of land where time works differently; valleys where there is no air to breathe; lands that float in the air; lakes that flow with strange liquids; places where the dead do not stay dead; and other oddities.
Those practicing magic or rumored to practice magic are hunted down. In civilized areas they are taken to face trial; in other areas the locals perform their own sort of justice. Magic relics are expected to be turned in to the authorities.
After the death of four of their kind, almost all of the gods abandoned the land; leaving the mortals to their own dangerous devices. Only two god stayed behind. Vehmeer, the reclusive god of knowledge who bestowed very few blessings upon the land, and Talisean. Talisean was a minor deity, the god of lost children and orphans. It seemed only fitting that he remained. Unknown to the mortals, Talisean has sent out a beacon through the cosmos; a call of for the return of deities to the world.
Of late, Talisean's beacon seems to have drawn some interest from afar. A sister and brother; Dhamos and Khamos, have become Lady Death and the Ale God. Odna came to the land as a goddess of water and life. The Strange One as well, a god from a very distant corner of the universe whose name is not pronounceable except by his most devout. (Zxhertzktyzhan) He is said to resemble a giant house-fly and his priests often suffer from fits of madness. Perhaps others will come as well.
Below; Humans, Elves, Dwarves, Lizardmen, Minotaurs, Orcs, and Kobolds have put aside their differences and bonded together in the face of evil. Though tensions remain among the races; and certainly there are dissenters, most cities welcome all sentient races among their peoples
Will you be a defender of a city or town? A seeker of treasure? An administrator of justice? A magic user on the run? A priest of a new god? The possibilities are (mostly) endless.
---
Story Posts
Stagford .6 - A Fireside Chat
Sep 2, 2017, 1:46am by dreamshell
Time and experience had rewarded Master Scab with an easy indifference to foul weather, a true mark of bravery for his race (certain spells he had taught himself helped also). His nephews di ...
Showing 4 out of 49 posts
---
Post Summary
| | Jan | Feb | Mar | Apr | May | Jun | Jul | Aug | Sep | Oct | Nov | Dec |
| --- | --- | --- | --- | --- | --- | --- | --- | --- | --- | --- | --- | --- |
| 2017 | | | | | | 16 | 27 | 5 | 1 | | | |
---
Moderators
donteatpoop
Members
There are 4 members in this game
Pending Members
There are no pending members in this game