Summary: A pilot who isn't what she seems.
Chaz
Owned by: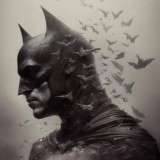 Avenuewriter
Gender: Female
Age: 26
Group: Orion Crew: Pilot
Game: Firefly: The Orion Chronicles
Nationality
Alliance
Rank/Title/Profession
Pilot
Job/Skills/Abilities
Pilot, bit of a tinkerer and handy in a bar fight.
Physical Appearance
Chaz is rather unassuming and not at all intimidating. She's a small, mousy-looking, young woman with short, blonde hair and green eyes. She's often seen wearing grease-stained, denim shorts and t-shirts with funny logos on them.
Personality and Interests
Chaz is a quiet girl who tends to keep to herself for the most part. When she is interacting with others, she's more than happy to cut people down with her sharp wit. She loves to collect things from Earth-That-Was, primarily old comic books and "retro" video games.
History
Charlene Cavill was born on an Alliance world to two, loving parents. She was an average student in school and soon took a job working as a receptionist. All-in-all a normal life for a normal person.
There's just one problem.
Charlene Cavill has been dead for 4 years.
The woman now going by the name Charlene Cavill went to great lengths to acquire this identity, as well as went through numerous surgical operations to look like Charlene. After a brief stay in a back alley surgeon's recovery room, "Chaz" has been trying to stay under the radar while scouring the verse for someone known only as "The Collector." For what reason Chaz isn't quite willing to divulge to anyone. All that matters is she keeps moving, and that means finding a ship.
Favourite Sayings
"I have a fully working Atari Jaguar... I can fix anything."
"Leaves are at the mercy of the wind. I am no leaf."
---
This character is owned by: Avenuewriter
Character questions
Recent Activity
Mentioned in the post
An Offer
Oct 7, 2017, 5:04am
Mentioned in the post
MAOU OU812
Sep 17, 2017, 10:11pm
Mentioned in the post
Answers
Sep 17, 2017, 12:32am
Mentioned in the post
Moving On
Sep 16, 2017, 5:13pm
Mentioned in the post
Cheese it!
Sep 16, 2017, 3:29am
Updated character profile
Aug 5, 2017, 6:56am
Updated character profile
Aug 2, 2017, 4:39am
Updated character profile
Aug 2, 2017, 4:34am
Updated character profile
Aug 2, 2017, 2:45am