Summary: Ship's muscle, has a bit of a soft side.
Burgess Thorn
Owned by: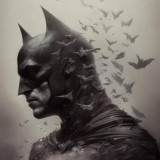 Avenuewriter
Gender: Male
Age: 53
Group: Orion Crew: Security
Game: Firefly: The Orion Chronicles
Nationality
N/A
Rank/Title/Profession
Rogue Mercenary
Job/Skills/Abilities
Hurting people, preferably for profit.
Physical Appearance
Thorn is a tall and imposing man with short graying hair and numerous scars. His most notable trait is his missing right hand, which is now replaced with a cybernetic apparatus with numerous attachments, most of them weapons.
Personality and Interests
Thorn is a simple man who only cares about getting paid. He often believes his only notable skills are fighting and killing. But his hardened exterior hides a softer side. He's a friend to all children and small animals, and donates a good amount of his earnings to various orphanages and animal shelters.
But if you were to expose these good deeds he'd happily pulverize your face.
History
Thorn grew up on the streets, taking care of himself and a small group of orphans. He fell in with numerous gangs, served time in prison for various crimes, and eventually found steady work as a mercenary working on the Incubus crew.
However, he's been growing weary of Captain Quentin's cutthroat antics and is eagerly looking to jump ship. Hopefully, embarrassing Quentin in the process.
Favourite Sayings
"You got a problem, I can punch it fer ya."
---
This character is owned by: Avenuewriter
Character questions
Recent Activity
Mentioned in the post
An Offer
Oct 7, 2017, 5:04am
Mentioned in the post
MAOU OU812
Sep 17, 2017, 10:11pm
Mentioned in the post
Answers
Sep 17, 2017, 12:32am
Mentioned in the post
Moving On
Sep 16, 2017, 5:13pm
Mentioned in the post
Cheese it!
Sep 16, 2017, 3:29am
Updated character profile
Aug 23, 2017, 1:29am
Updated character profile
Aug 23, 2017, 1:27am