Summary: Human/Klingon Spy For Starfleet Intelligence
R'ana Edison
Owned by: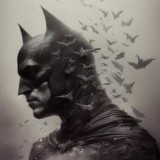 Avenuewriter
Gender: Female
Age: 38
Group: Klingon Empire
Game: Star Trek: Defiance
Species
Half-Klingon/Half-Human
Skills
Espionage, tactician.
Rank
Lieutenant Commander
Physical Appearance
As R'ana: A rather tall woman due to her Klingon heritage. She has diminished forehead ridges due to being part human.
As Bekesh: cuts an imposing figure, even for a klingon, and is often seen wearing a gauntlet that bares the comm badges of many-a-starfleet officer she has killed during the recent Federation-Klingon War before the Borg invasion of the quadrant.
Personality and interests
R'ana is a rather friendly person and has been said to take after her mother, who was human, more than her father. She has a knack for slipping in and out of various personalities (she originally wanted to be an actress before joining Starfleet). She also loves listening to music.
She is also a bit of a flirt.
History
R'ana was born on Earth to a Klingon father and a Human mother. Growing up she always wanted to be an actress, but soon found herself joining Starfleet where she was quickly picked by a "talent scout" from Starfleet Intelligence.
She then went through rigorous training to become a spy operating in the Klingon Empire as a ruthless warlord known as "Bekesh."
As Bekesh, she was tasked with helping the fledgling New Klingon Movement develop into a prominent rebellion within the Empire.
It hasn't been until recently, after successfully completing her mission, that she has been able to be R'ana again.
After serving aboard the USS Titan before the Battle To Reclaim Earth, and falling in love with Captain Gunner, she opted to become a permanent fixture to the Titan crew. However, at some point in the intervening two years she left Starfleet and is now working alongside the Klingons and helping rebuild their empire with help from Starfleet and the Changeling Protectorate. She is mysteriously silent as to the status of her relationship to Captain Gunner.
Favourite Sayings
"Care to share a drink with me?" - Her usual line when she is flirting.
---
This character is owned by: Avenuewriter
Character questions
Recent Activity
Updated character profile
Aug 19, 2018, 1:01am
Updated character profile
Aug 19, 2018, 1:01am
Mentioned in the post
Downfall
Aug 18, 2018, 9:42pm
Updated character profile
Aug 28, 2017, 2:28am