Summary: To kill a vampire you must be a vampire
Dragomir Dragonseeker
Owned by: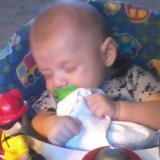 Rhiannon
Gender: Male
Age: unknown
Group: Dragonseeker's and Von Shrieder's
Game: The Dark Children
Parents&Siblings
Razvan Shonski (father)
Natalya Shonski (Aunt)
Xavier (great grandfather)
Mother is unknown
Special Abilities
Can be out in the sun.
Physical Appearance
Vivid gold and green eyes
Personality and History
He was raised by his great grandfather Xavier , his father has no knowledge of him, his full name is Dragomir dragonseeker, but Xavier gave him the nickname Dracul Romanian name meaning "devil" or "dragon.". He was train by him in the way of magic and his dragonseeker side. His ability to walk in the sun made him unique and useful to Xavier. He was in charge of capturing and breaking in the vampires Xavier wanted. He hated his grandfather and when he was young tried to rebel, as his power grew Xavier found ways to control him. Once Xavier fell he wandered the world Hunting the undead he had been forced to train, Carpathians have heard of a strong hunter taken out strong vampires but no one knows who he is..
Lifemate
N/A
---
This character is owned by: Rhiannon
Character questions
Recent Activity
Updated character profile
Feb 23, 2018, 12:56am
Mentioned in the post
Paris 13
Feb 15, 2018, 7:43pm
Mentioned in the post
Paris 12
Feb 15, 2018, 3:25pm
Mentioned in the post
Paris 11
Feb 15, 2018, 1:19pm
Mentioned in the post
Paris 10
Feb 15, 2018, 9:46am
Mentioned in the post
Paris 8
Dec 6, 2017, 2:53am
Mentioned in the post
Paris 7
Dec 6, 2017, 12:33am
Mentioned in the post
Paris 6
Dec 5, 2017, 5:19pm