Summary: Daughter of Dayan and Corinne
Jennifer Wentworth
Owned by: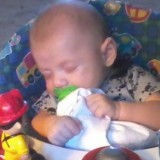 Rhiannon
Gender: Female
Age: 22
Group: Rodriguez's and Wentworth's
Game: The Dark Children
Parents&Siblings
John Wentworth † (natural father)
Corinne Wentworth (natural mother)
Dayan (adopted father)
Special Abilities
Can play many instruments, some telekinetic ability, and a hidden ability (her attack songs/vocalizations cause disorientation in those who are evil and, if her anger or desire to protect is strong enough, cause the trees to attack)
Physical Appearance
Dark black hair and green eyes
Personality and History
She is the daughter of John and Corinne Wentworth. She is in-utero when Dayan meets Corinne. She is a strong psychic who is able to be converted, when it is a possibility. She is partially converted by Dayan's blood and is born ½ Carpathian.
At age seven, she ran off. Her screams filled the night, calling Dayan to her. When he found her, she was just outside of the safeguards around the camp, a vampire draining her. Dayan and Darius fought the master vampire and won, but Jennifer needed to be converted to save her life. As they were in California, they took her to the Asenguard Compound to be converted so she wouldn't feel any pain. She blocked the memory due to the mental trauma the vampire forced upon her. She knows she is fully Carpathian, and doesn't care why. Trying to think about that day causes her to panic and pass out as if from pain.
Lifemate
Marcus Valvoline
---
This character is owned by: Rhiannon
Character questions
Recent Activity
Updated character profile
May 11, 2020, 2:00am
Updated character profile
Nov 1, 2019, 1:04pm
Updated character profile
Oct 21, 2018, 11:41pm
Updated character profile
Feb 23, 2018, 1:13am
Updated character profile
Feb 23, 2018, 12:35am
Mentioned in the post
Paris 10
Feb 15, 2018, 9:46am
Mentioned in the post
Concert 4
Dec 2, 2017, 3:24pm
Mentioned in the post
Concert 3
Dec 2, 2017, 2:25am
Mentioned in the post
Concert 2
Dec 1, 2017, 11:08pm
Mentioned in the post
Concert
Dec 1, 2017, 6:41pm
Mentioned in the post
Lost Ones
Nov 29, 2017, 12:05pm
Mentioned in the post
Letters
Nov 29, 2017, 12:26am
Updated character profile
Sep 11, 2017, 12:40pm