Summary: A Guardian of All, fourth eldest De La Cruz brother, and uncle to Liliana.
Manolito De La Cruz
Owned by: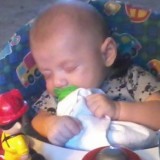 Rhiannon
Gender: Male
Age: Ancient
Group: De La Cruz's and Savage's
Game: The Dark Children
Parents&Siblings
Nicolas De La Cruz (brother)
Rafael De La Cruz (brother)
Riordan De La Cruz (brother)
Zacarias De La Cruz (brother)
Special Abilities
-----------
Physical Appearance
Very handsome; broad shoulders; powerful arms; tall, slender waist and hips; muscular chest; moves like a predatory cat; exquisite angular face; dark mysterious black eyes with streaks of amber; shiny, silky, black hair; straight, masculine nose; high cheekbones; strong jaw; sensual mouth
Personality and History
Manolito is the fourth oldest of the five De La Cruz brothers, who were sent by Prince Vladimir Dubrinsky to the jungles of South America to rid the continent of the vampire, in protection of the Carpathian race. They have a ranch on the edge of the forest. He is aloof and aristocratic. His real name is Manuel but because his shoulders are broader and he has more muscle, his brothers tease him by reducing him to boy. When Luiz Silva, a jaguar male, nearly died trying to save two of the De La Cruz lifemates, Manolito saved him by converting him.
Lifemate
MaryAnn Delaney
---
This character is owned by: Rhiannon
Character questions
Recent Activity
Updated character profile
Feb 23, 2018, 12:47am
Mentioned in the post
Concert 5
Dec 3, 2017, 12:10am
Mentioned in the post
Battle 3
Nov 27, 2017, 11:29pm
Mentioned in the post
Battle 2
Nov 27, 2017, 7:41pm
Mentioned in the post
Battle
Nov 27, 2017, 2:01pm
Mentioned in the post
Flying 2
Nov 26, 2017, 3:41pm
Mentioned in the post
Flying
Nov 26, 2017, 12:07pm
Mentioned in the post
Train
Nov 24, 2017, 7:02pm
Mentioned in the post
Wild
Sep 10, 2017, 6:56pm
Updated character profile
Sep 9, 2017, 12:51pm
Updated character profile
Sep 2, 2017, 8:04pm