Summary: If I dream of you may it be a good dream...
Rodger Rodriguez
Owned by: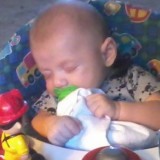 Rhiannon
Gender: Male
Age: Ancient
Group: Rodriguez's and Wentworth's
Game: The Dark Children
Parents&Siblings
A brother and a sister
Special Abilities
Prophetic dreams and jaguar bloodline
Physical Appearance
------
Personality and History
He was lucky to escape the Turkish invasion. However, unlike the members of the Dark Troubadours, He made his way to Mexico, where a village raised him and his siblings and kept them hidden until they were old enough to leave. They protected the village for three hundred years until some master vampire and his minions destroyed it while they were out hunting a decoy. They began traveling the world, in search of others like them and, unconsciously following the band.
Lifemate
-------
---
This character is owned by: Rhiannon
Character questions
Recent Activity
Mentioned in the post
New Course
Oct 9, 2018, 1:19am
Mentioned in the post
Paris 12
Feb 15, 2018, 3:25pm
Mentioned in the post
Paris 11
Feb 15, 2018, 1:19pm
Mentioned in the post
Paris 8
Dec 6, 2017, 2:53am
Mentioned in the post
Concert 4
Dec 2, 2017, 3:24pm
Mentioned in the post
Concert 3
Dec 2, 2017, 2:25am
Mentioned in the post
Concert 2
Dec 1, 2017, 11:08pm
Mentioned in the post
Concert
Dec 1, 2017, 6:41pm
Updated character profile
Nov 28, 2017, 5:44pm
Updated character profile
Oct 1, 2017, 4:39am
Updated character profile
Sep 30, 2017, 11:47pm
Updated character profile
Sep 30, 2017, 11:38pm
Updated character profile
Sep 30, 2017, 11:32pm