Summary: Traveling singer that idolizes Desari; public name:
Shelbi Tortuga
Owned by: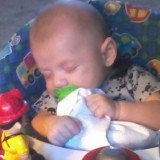 Rhiannon
Gender: Female
Age: 21
Group: Other
Game: The Dark Children
Parents&Siblings
Unknown
Special Abilities
Her voice can bring peace, trap people, and even heal wounds (similar to a healer but different in that she doesn't need the healing chants to heal, but her own songs)
Physical Appearance
See pic
Personality and History
She is an up and coming singer who idolizes Desari. She is traveling to small clubs and concert halls to perform, loving what she does, even if it isn't lucrative at the moment. She uses the stage name, "Mi$$y D" and that's all the public knows her as. She knows her voice is a powerful weapon, just like her idol's, but she doesn't understand what it means or even the extent of her powers. If she sees someone hurt in front of her she begins singing what she calls a battle song and somehow fights the aggressor, winning most times though no one knows how.
Lifemate
-------
---
This character is owned by: Rhiannon
Character questions
Recent Activity
Mentioned in the post
New Course
Oct 9, 2018, 1:19am
Updated character profile
Feb 23, 2018, 12:50am
Mentioned in the post
Paris 10
Feb 15, 2018, 9:46am
Mentioned in the post
Paris 8
Dec 6, 2017, 2:53am
Mentioned in the post
Paris 7
Dec 6, 2017, 12:33am
Mentioned in the post
Paris 6
Dec 5, 2017, 5:19pm
Mentioned in the post
Paris 5
Dec 5, 2017, 12:07am
Mentioned in the post
Paris
Dec 3, 2017, 5:50pm
Mentioned in the post
Concert 4
Dec 2, 2017, 3:24pm
Updated character profile
Nov 17, 2017, 8:45pm
Updated character profile
Nov 15, 2017, 9:49pm
Updated character profile
Nov 9, 2017, 3:13pm
Updated character profile
Nov 9, 2017, 3:12pm