Summary: A blade-runner-turned-resistance-fighter
Dave Bullock
Owned by: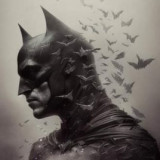 Avenuewriter
Gender: Male
Age: 42
Group: Humans
Game: Blade Runner : 2052
Occupation
Former Blade Runner. Current Replicant resistance member.
Rank
N/A
Appearance
Dave is an average-looking man in his early forties. He has a massive scar running down the center of his chest from a nasty run in with a psychotic replicant during his time as a blade runner. He also has a cybernetic right arm after surviving an explosion meant to wipe out a small resistance cell. As well as come cybernetic fixtures on the right side of his face to hold it together.
Personality
Dave is a somber person with many years of guilt haunting him. His time as a blade runner has left him embittered and determined to right the wrongs he committed.
He has a bit of a dark wit about him, and isn't above cracking a couple quips.
Interests/Hobbies
Dave enjoys playing chess in his spare time. He is also a bit of a shutterbug, snapping photos of whatever catches his fancy, it is a hobby he picked up from his lost love, a short-lived replicant named Grace.
Brief History
Dave was once New York's most successful Blade Runner in 2049. However, after going undercover to weed out a violent replicant rebel cell he fell in love with a replicant spy named Grace and turned against his fellow blade runners. Over the ensuing years he eventually found himself in Los Angeles, a broken man with more bitter memories. However, he is still determined to help the replicants he once hunted.
Flaws
Dave is often impulsive and quick to react, which gets him into trouble more often than not.
He's been struggling to kick his alcohol addiction, something that was made worse when he lost Grace.
Weapons/Equipment
He still carries his police issue blaster, a 2019 classic with some new personal customizations.
His cybernetic arm provides him a small boost to his strength and also sports a personal computer capable of minor hacking and repair.
Favourite Sayings
"Everybody runs."
---
This character is owned by: Avenuewriter
Character questions
Recent Activity
Mentioned in the post
Prodigal
Oct 31, 2017, 11:22pm
Mentioned in the post
Showdown
Oct 30, 2017, 10:34pm
Updated character profile
Oct 11, 2017, 10:40pm
Updated character profile
Oct 11, 2017, 8:25pm