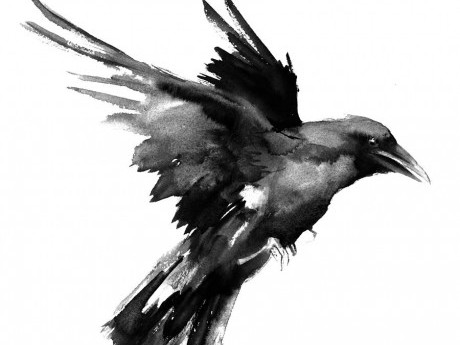 Summary: "Special delivery. And Cal, you're blood is showing. I'd get that fixed if I were you."
Branwen Thorne
Owned by: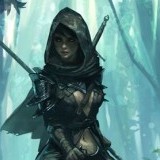 Niki Haruno
Gender: Female
Age: ~2100
Group: Hybrids
Game: The Old World
Specific subcategory of their group (see game info)
Former human unfortunately turned into a raven by Aengus Og.
Job/Skills/Magical Prowess/Combat Capabilities [In that order, please]
Messenger for her children
Flying.
Planeswalking and mild distance distortion. Oh, and she can speak.
Clawing, pecking. Not much.
Rank/Title/Position
Raven's Nest Messenger
Physical Appearance
Completely black - glossy black feathers, a black beak, black legs and black eyes.
Personality and Interests
Branwen's transformation hasn't removed her maternal instinct for her children and she will do anything to protect her brood. She's quite pleasant and polite and tries to take care of the other Circle members, although they treat her sort of like a mother hen/pet and like giving her treats, which she appreciates. She also has a somewhat macabre sense of humor which apparently comes from being a raven.
History
Branwen raised Erin and Cal until a dispute with the annoying Aengus Og, at which point Aengus turned her into a raven simply because she disagreed with him. And her name actually meant raven too, so it was a joke in rather poor taste as well.
Weapons/Artifacts/Magical Items [preferably in that order if possible]
None
Supernatural Organization Affiliated with [if there is one]
Raven's Nest Circle
Do note that it is called the Raven's Nest because Erin and Callum are Branwen's children, her 'chicks', and it's her 'nest'. She's the Raven the Circle is named for. Kinda sweet of her kids, right?
Relationships with Other Characters [please discuss with owner if character is not yours]
Mother of Erin and Callum Thorne
---
This character is owned by: Niki Haruno
Character questions
Recent Activity