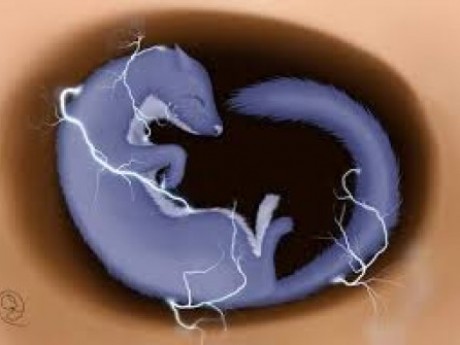 Summary: Lightning weasel!
Aki
Owned by:
Niki Haruno
Gender: Male
Age: Unknown
Group: Monsters
Game: The Old World
Specific subcategory of their group (see game info)
Japanese Raiju
Job/Skills/Magical Prowess/Combat Capabilities [In that order, please]
Can summon plenty of lightning, can shapeshift, is exceptionally fast, can also teleport.
Very fast, lightning powers, claws, teeth, teleportation.
Rank/Title/Position
N/A
Physical Appearance
Aki typically takes the form of either a blue-furred weasel or a blue-furred fox (more commonly the weasel). He usually has some lightning and electricity crackling around him at all times.
Personality and Interests
Aki is curious, friendly, and very intelligent. He likes most people (especially ones that give him food) but differs from other lightning entities. He also has a thing for sleeping on his owners' stomachs. And he attacks people who attack his chosen owner.
History
Aki is a descendant of the original Raiju, the lightning-charged companion of the god Raijin. He lived in Japan for a very long while before being found by a zenko kitsune. The kitsune migrated with Aki from Japan through Asia and Europe before being killed by a misguided Hunter who thought all kitsunes were man-eating monsters. Aki became infuriated with the Hunter and electrocuted him. Aki began wandering and came across Cerulea Galva, a mage that specialized in electromancy.
Weapons/Artifacts/Magical Items [preferably in that order if possible]
N/A
Supernatural Organization Affiliated with [if there is one]
N/A
Relationships with Other Characters [please discuss with owner if character is not yours]
Cerulea Galva's pet (of sorts).
---
This character is owned by: Niki Haruno
Character questions
Recent Activity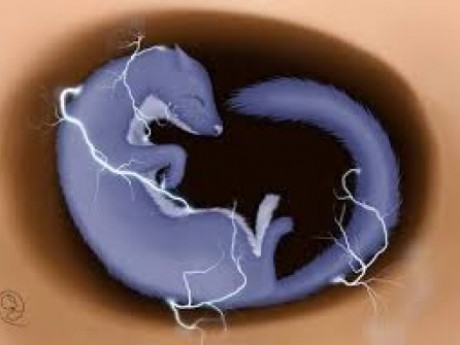 Updated character profile
Jan 18, 2018, 9:05pm