Summary: Self employed entrepreneur has musically inclined big dreams.
Tohgwin Alethumb
Owned by: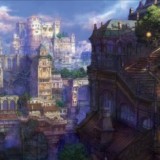 Tigersroar13
Gender: Male
Age: 73
Group: Dwarfs
Game: Xieheart- God's divine
Class
Bard/Buffer
Race
Dire-ore dwarf
Powers/skill
Magic lute™:
-Song of sleep
-Song of silence(magic interruption)
-Song of slow fall
-Song of soil's blessing(the earth[ground] will attack enemies for short time)
-Skills:
-very charismatic/making friends
-jewel crafting
-fixing things
Physical Appearance
A bald-headed auburn bearded dwarf. Golden bells are intricately braided into his hair.
Personality and interests
as any good sales person should be, Tohgwin is very charismatic and good at convincing people to buy his wears. Often he can be found socializing in the square of any town getting to know the local gossip. He loves playing the lute and learning new songs. Playing them in pubs for extra coin is just a bonus.
History
Leaving home young, with only a lute, the clothes on his back and a small pouch of coins, Tohgwin began following his dream of becoming a well known musician. Such a career though, need funds. Having worked in the local jewelers as a boy, he had a good eye for precious stones and began collecting low quality diamonds to fashion up. As common as they were, on their own, they often were mistaken for ordinary rocks. Breathing a little life into them, Tohgwin brought forth a little sparkle in the jewels and his new costumers eyes. Soon after he started he own travelling jewelers shoppe, commuting from town to town, selling his now much better quality stones. All the while, building reputation in the country of Zann, an old cotumer of his, An old witch has been teaching him how to use music for more than just art.
---
This character is owned by: Tigersroar13
Character questions
Recent Activity
Mentioned in the post
Moving on
Feb 21, 2018, 6:06am
Mentioned in the post
What?
Feb 8, 2018, 5:05am
Updated character profile
Jan 17, 2018, 2:17am
Updated character profile
Jan 17, 2018, 1:37am