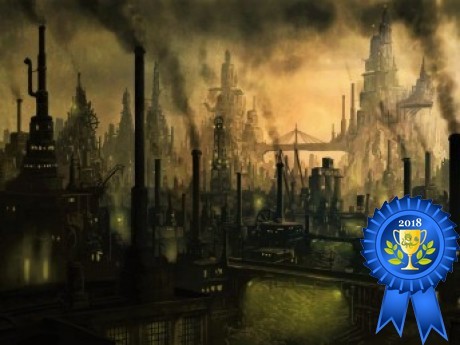 Description
Maelstrom takes place in a steampunk setting where a precious resource called Flagesium powers the remaining bastions of humanity. As far as anyone knows, all humans either live in one of two cities, the floating utopia of Elesium, or the smoggy city below, Dusk. Flagesium is acquired from a great mine called the Delve, where mutant slaves extract raw Flagesium and ship it to Dusk, where it is refined and flown to Elesium to keep the City in the Sky afloat in return for clean food, water, and medicine. This is necessary because a perpetual, extremely potent, toxic canopy called the Maelstrom resides over Dusk and the wasteland that surrounds it. This symbiotic relationship has kept the civilization alive for centuries, but as is the case with every system, some people have been benefitting from it more than others, and many of those that have been getting the raw end of the deal would like to do something about it...
Please read the game information page before starting a character.
---
Latest story summary:
30th September 509.AE - Council Update : A terrorist attack on the eastern barricades has brought work on the new wall to a halt. Thankfully the structures surrounding the new train station were not targeted. It is suspected that an airship was stolen from Graymire and flown to the city where its cargo was detonated on impact. All crew are thought to have been killed in the blast. Militia recruitment will be increased to bolster City security.
Posted by: Largehobbit on May 21, 2018, 10:53am
---
Story Posts
A Day in the Life of Jonathan Hanson
May 22, 2018, 2:25am by Nim
- Hansons Apparel, Centrum. Noon August 21st - As Hanson looked over the various financial and material reports that graced his desk, he struggled to focus on what he was reading a ...
Showing 4 out of 151 posts
---
Post Summary
| | Jan | Feb | Mar | Apr | May | Jun | Jul | Aug | Sep | Oct | Nov | Dec |
| --- | --- | --- | --- | --- | --- | --- | --- | --- | --- | --- | --- | --- |
| 2018 | | | 58 | 54 | 39 | | | | | | | |
---