Summary: Wants to bring her sister's killer to Justice
Bobbi Jo Munroe
Owned by: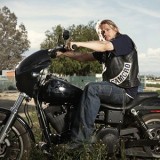 LadyPyra
Gender: Female
Age: 25
Group: The Law
Game: These City Streets
Nationality
Italian-American
Job/Skill
Detective with the PD specializing in biker gangs
Rank/Title
Detective
Personality and interests
Bobbi is a pretty friendly sort with an interest in fast cars,especially american muscle, racing and her family. A lesbian by nature after a abusive marriage.
Background
Bobbi is the sister of the wife of Trent Cole. After her death Bobbi at first wanted to kill the person responsible, now she just wants to bring them to Justice. She also doesn't like the corrupt cops on the force and is by the books. Though has turned a blind eye at times to some of her partner's antics. Newer to the force she is still a bit new but hopes to make a name for herself. Despite it all she still respects Trent who was the one who helped her out of her abusive marriage.
---
This character is owned by: LadyPyra
Character questions