Summary: Gunrunner for the family business, trying to get his sister on their side
Michael O'Rourke
Owned by: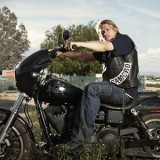 LadyPyra
Gender: Male
Age: 27
Group: O'Rourke Syndicate
Game: These City Streets
Nationality
Irish-American
Job/Skill
Gunrunner for the SYndicate, charmer, cons
Rank/Title
Capo in the O'Rourke Syndicate
Physical Appearance
The man with the icy gaze as he's been known he is a bit under average in size with short hair. Has a few scars from bullet wounds over the years.
Personality and interests
He only wants to do what's best for the family. He's still trying to get Bev on their side though understands why she is against them. a thinker, he often goes quiet and is a bit aloof at times.
Background
The younger brother of Bev and Tim, Michael is the thinker. He curses his father for not doing whatever it takes to get Bev on their side. Telling her her only use was to be married to one of the other families is not the way to go.
He also wants to know who ordered the hit on the Masters of Mayhem. Sure it got them back into running guns but if they learn the truth then those guns will be pointed straight back to the family. Which isn't good for business.
---
This character is owned by: LadyPyra
Character questions