Summary: Wants answers into who killed his brother. Treasurer of the Disciples. The Fat Man
Bobby Conrad
Owned by: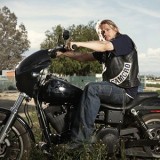 LadyPyra
Gender: Male
Age: 52
Group: NPCs
Game: These City Streets
Nationality
Jewish American
Job/Skill
Treasurer of the Satan's Disciples, skilled bookeeper, former cop
Rank/Title
Treasurer in his club
Physical Appearance
Overweight and out of shape Bobby is nearing the end of his Biker career. His long flowing hair and beard are staples of his as is his gut that is seen as mockery to some.
Personality and interests
Cool and collected, Bobby uses his head when it comes to the club. His interests lie in some day walking away to enjoy the end of his days. Preferably with a nice young lady to look after him.
Background
Bobby was one of the founding members of the Masters with Clayton Cole. When Trent took over there was a falling out in the direction the club was taking and after awhile Bobby left. He blacked out his tats and was hoping his younger brother would follow. Not likely. Bobby searched all over, and found several members and soon formed a new MC. Though he was asked to become Pres, he opted out of this.
Recently his brother was killed in the driveby on the Masters and Bobby wants answers. He had heard the Club was going legit and it makes no sense to hit them. When the Club rides for the funeral the Disciples will ride as well. For his brother.
---
This character is owned by: LadyPyra
Character questions