Summary: Intense silent staring.
Quinn E.
Owned by: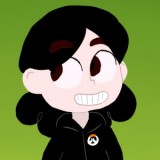 18slash21
Gender: Male
Age: 12
Group: Supernaturals
Game: City of The Reaper
Nationality
It's pretty damn complicated
1/2 human
1/2 avian
Job/Skill
Unemployed
Rank/Title
Not applicable
Physical Appearance
He is a 5'0" , 97 lbs. boy with light skin covered in grayish freckles. He has dark brown hair and big brown eyes. His torso is longer than the average human's, supporting a gray-speckled white 12 foot wingspan. He wears loose clothing but no shoes.
Personality and interests
He's very shy, but a sweetheart. He's skittish, and will flinch away from anything and everything. He loves to hear people talk though, especially if it's soft and quiet. It's unexplainable but he finds its calming.
History
He was the result of a failed attempt to scientifically create an angel. The basement scientist that created him kept him, though they continued their attempts. The scientist raises Quinn, though they use him for tests and monitoring to use for future attempts(he's given peanut butter as a treat for being good, which is how he grows to live it). He's found to have sensitive lungs, and certain fumes and odors make him sick, and that he can't eat certain foods without it hurting his stomach. His vocal cords are damaged from the fume tests, and he is never able to talk.
He's not allowed to leave his home, but he does anyway, his curiosity getting the better of him.
Favourite Sayings
"..."
(He doesn't talk)
Favourite food
Peanut Butter
---
This character is owned by: 18slash21
Character questions
Recent Activity
Mentioned in the post
Good
Jun 13, 2018, 1:57am
Mentioned in the post
Resistance
Jun 13, 2018, 1:44am
Mentioned in the post
Confidence
Jun 13, 2018, 1:17am
Mentioned in the post
Maybe...
Jun 12, 2018, 2:19pm
Mentioned in the post
Humans
Jun 12, 2018, 1:52pm
Mentioned in the post
Attempt
Jun 12, 2018, 12:35pm
Mentioned in the post
Wind
Jun 1, 2018, 2:01am
Mentioned in the post
Nervous
May 23, 2018, 5:43am
Mentioned in the post
Flying
May 20, 2018, 7:05pm
Mentioned in the post
While
May 20, 2018, 6:14pm
Updated character profile
Apr 17, 2018, 5:43pm
Updated character profile
Apr 17, 2018, 5:43pm