Summary: Ash is just one more example of a man turned wretched by the wastes.
Ash McArther III
Owned by: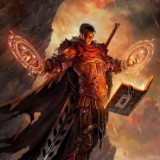 LucianNepreen
Gender: Man
Age: 30
Group: Town Hired Scavengers
Game: No-Mans Land
Species
Human
Rank
Usually a loner
Job
Stealin' shit and killin' fucks
Home
The town of Zink, though he left it behind many years ago
Physical Appearance
Ash is an above average hight man with big hamy looking muscles, and long black hair that glistens all sweaty like in the sunlight. Certain aspects of his anatomy are overdeveloped, such as his K9s and leathery thick skin.
Personality
There's only one thing in the world that Ash loves more than talking about himself and that's smoking... well, and drinking. Usually while talking about himself. Also, he likes naked women and a good fight, preferably with a naked woman. And if he can talk about himself while he does it, all the better. In short, he comes across as a giant pig of a man with enough skills and physical prowess to out-survive most and just enough charisma that most people tolerate his presence and a rare few find him endearing. His greatest downfall however is that somewhere out there in the wastes, he lost the ability to feel almost anything. All the pointless fights and meaningless sex and occasional self harm is just a desperate attempt to feel something, ANYTHING besides the all consuming numbness. He occasionally takes foolhardy risks in this pursuit. As far as talking about himself all the time, he really just likes to talk about himself.
History
Surely you have heard one or two tails of the one and only man who walks the sandy wastes who fears neither man nor mutant beast? The man who's courageous valor precedes him wherever he goes? Well that man is none other than the great Ash McArther! He is the man, world renowned for slaying the hydra of the far east desert and taking the head from the cruel captain Blutbeard of the Blutbeard raiders who once proweled the western sands!
These are but a few of the tall tails that Ash has told over the years.
He was born in the town of Zink and left at an early age. He spent more than a few years as a wanderer before coming to Bourbon. In that time he did a lot of killing. Most deserved it. A few might not have. Somewhere along the way he realized that he didn't care, at least not as much as everyone else.
He is an incredibly brave man, for the right price. And he would be a great hero, if only the opportunity would present itself, preferably in the form of an absurdly busty damsel in distress.
Other facts
Ash is a natural born tinkerer. He can do some surprising things with a little junk.
Items Always Carried
Cigars, a panga named Matilda, a rifled pump-action shotgun named Duke, pants
---
This character is owned by: LucianNepreen
Character questions
Recent Activity
Mentioned in the post
Regrouping
Sep 16, 2018, 10:14pm
Mentioned in the post
Lucky shot
Aug 24, 2018, 10:40am
Mentioned in the post
War beast
Aug 13, 2018, 4:00am
Mentioned in the post
Rowdy Crowd
Aug 12, 2018, 11:04pm
Mentioned in the post
Stall
Jul 30, 2018, 1:43pm
Updated character profile
Jun 29, 2018, 1:06am
Updated character profile
Jun 29, 2018, 1:05am
Updated character profile
Jun 29, 2018, 1:03am
Updated character profile
Jun 29, 2018, 1:02am
Updated character profile
Jun 28, 2018, 7:20pm
Updated character profile
Jun 28, 2018, 7:20pm
Updated character profile
Jun 28, 2018, 7:19pm
Updated character profile
Jun 28, 2018, 7:19pm
Updated character profile
Jun 1, 2018, 11:43pm
Updated character profile
May 7, 2018, 6:51pm