Summary: Mess with my family and I'll rip your throat out quicker than a prewar fox.
Will(Fox) Lian
Owned by: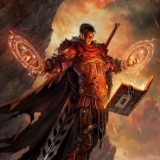 LucianNepreen
Gender: Male
Age: 22
Group: Town Hired Scavengers
Game: No-Mans Land
Species
Human
Rank
Leader of his own group
Job
Deciding where they scavenge at and talks to the mayor for them.
Home
Has a room at the bar in exchange for his group staying in town and defending it.
Physical Appearance
Tall and lanky, is said under hushed tones that he is more monkey than man.
He has many scars from many fights, some being covered by tattoos.
His long hair is often tied in a ponytail.
Personality
Most of the time, Will is a level headed leader, he is an avid drug addict, leaving him erratic and paranoid the rest.
History
Born to other scavengers working I the town, he is a living testament of the twisting nature of the waste. After losing his parents in a bandit raid, he turned to drugs and in a depressed fit of rage, he killed his boss and took control of his gang.
Other facts
Even when on drugs, he will treat his gang as family, any who messes with them will bear the brunt of his rage.
Items Always Carried
Two knives once carried by his parents.
His favorite Winchester.
Water bag
A curious little box
---
This character is owned by: LucianNepreen
Character questions
Recent Activity
Mentioned in the post
Trophy
Oct 11, 2018, 10:05pm
Mentioned in the post
Regrouping
Sep 16, 2018, 10:14pm
Mentioned in the post
Gone?
Aug 26, 2018, 9:14pm
Mentioned in the post
Final Stand
Aug 20, 2018, 12:20am
Mentioned in the post
War beast
Aug 13, 2018, 4:00am
Mentioned in the post
Rowdy Crowd
Aug 12, 2018, 11:04pm
Mentioned in the post
Stall
Jul 30, 2018, 1:43pm
Updated character profile
May 10, 2018, 7:18pm
Updated character profile
May 9, 2018, 10:00pm