Summary: Throw your garbage in, and no worries, Gunk will compact it in no time.
Gunk
Owned by: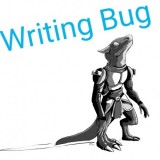 Writing Bug
Gender: Male
Age: Recently Built
Group: Disabled
Game: Star Wars Rogue Moon
Race
Refurbished Gonk Droid
Class
Cheap Labor, Winston's best friend.
Homeworld
Baron VIII
Physical Appearance
Rectangular shaped, and shiny black metal. Similar to other Gonk Droids
Personality and interests
Down in the dumps, droopy, and depressing. Even still he is a good friend, and will always stick to Winston side, when the times get tough.
Basic History
Built and Refurbished on Baron VIII, to be shipped to the Bantha
Equipment and Loadout
Internal garbage compactors, the factory built him to be a mobile garbage bin.
Languages
Has an internal translator that allows him to communicate through any language.
Quote
"Why do I have to carry their garbage?"
"Winston, stop leaving your trash on the floor! how am I supposed to clean that up?"
---
This character is owned by: Writing Bug
Character questions
Recent Activity
Updated character profile
Nov 24, 2018, 6:36pm
Updated character profile
Nov 24, 2018, 6:35pm
Updated character profile
Nov 24, 2018, 6:35pm
Mentioned in the post
Clean-up
Aug 14, 2018, 3:25am
Mentioned in the post
Check Up
Jul 27, 2018, 3:34pm
Mentioned in the post
Problem
Jul 23, 2018, 10:23pm
Mentioned in the post
Surch
Jul 19, 2018, 6:43am
Updated character profile
Jul 8, 2018, 1:51pm