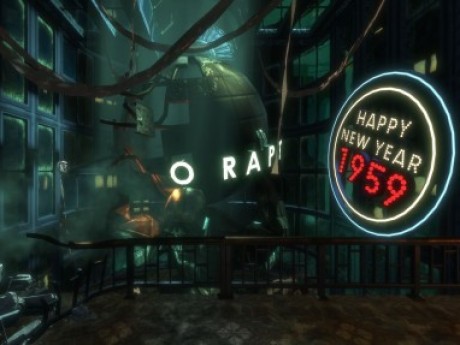 Description
The year is 1968 or so you think as you wake up in Rapture City (a game loosely based on Bioshock). Regardless of your background you wake up in a 1950's themed medical room and your memories are all jumbled up. The medical room you are in is clean and appears abandoned so you are safe for the moment. Of course that will soon change once you leave your safe room. You are unclear when and where you are at first since you have memories of yourself living different lives in different places during different times. It is unclear on which ones are your real memories.
Rapture City is currently in ruins and you need to find a way to escape soon since the buildings are leaking ocean water inside, some traps and mechs are active and the Splicers are doing their best to dice you up for spare parts. Do to an experiment gone wrong (see Bioshock Infinite time plasmid) Rapture now contains random portals to different times and worlds such as the floating city of Columbia in the early 1900's.
As you explore your surroundings you find the escape batheshperes (steampunk subs) are all missing or badly damaged. If your character is a human or a Delta series Big Daddy they can use Plasmids and Tonics. If they are a Little Sister they can regenerate very quickly due to the sea slug implant, but bones can reset improperly when broken and not quickly reset. Also note they do feel pain and can recover Adam from dead Splicers. To complicate things even more your characters will accidently find random portals and end up in different time periods and places. Depending on your character type you will run into various situations where you lack certain skills to solve your situation such as a Big Daddy can't communicate properly, Little Sisters are creepy and can't fight and Humans are less durable and can drown. Do your best to stay alive and find some allies to increase your odds of survival. Please remember to keep it PG since some minors may play this games.
---
Story Posts
Meeting the man
May 19, 2018, 6:00am by LaserSexPanther
A man hung on a cross. Head dropping old scars and fresh wounds on his torso. Hh honestly looked like me might be dead but his head slowly lifted looking at the three. "Hello Mark, Abby, and ...
Showing 4 out of 23 posts
---
Post Summary
| | Jan | Feb | Mar | Apr | May | Jun | Jul | Aug | Sep | Oct | Nov | Dec |
| --- | --- | --- | --- | --- | --- | --- | --- | --- | --- | --- | --- | --- |
| 2018 | | | | 14 | 9 | | | | | | | |
---