Summary: We, the City
The Great City of Omac
Owned by: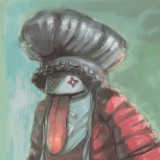 Mobius64
Gender: Absolute Cognatic Tanistry
Age: Established 1E, 20BNC
Group: Nations
Game: Empires of Glass
History, and Capital City
Capital City: The Inner City of Rabance
Omac began life as the small trading post of Rabance, first established by the first settlers in the region. It sits upon the Rabance Island, a small island of roughly 1,000 km2 located at where the Lake Narbara meets the River Narota, which will then flow to Nareen Bay and into the Nar Sea. The island of Rabance is itself split by the river, creating two halfs that the the City of Rabance now straddles. It is key to controlling the flow of trade in and out of Lake Nabara.
Over the years, more and more settlements began to come to the island. They settled in the hills on the west, on the shores of the east, the forests in the south and on the flatflands in the North. Over time, these all grew into cities in their own right, five in fact. As their city borders grew closer and closer, they finally merged 400 years ago into the Great City of Omac, which now covers the entire island. The name comes from Rabance's Lord Mayor, Rhond Omac, who led the formalised joining of the cities.
It is a city of cities, with the City of Rabance in the centre as the capital. As a nation, it focuses on trade. It exports minerals from the hills and transports them down the river to the sea. And anyone attempting to pass through the river can either go around the island or pass through the gates that guard the shortcut through the island.
Languages
Trade - Official, which all residents of Omac speak
Magic System
No official magical systems, although several other schools have set up in the Great City.
Religion
Tynism - ~30% of the population, and is the official state religion of the Lord Mayor
Leader and Government Type
Ruler: Lord Mayor Ghart
Government: Tanistry Monarchy - When a Mayor inherits the crown of one of the 4 Outer Cities of Omac, all landowners of that city vote for his heir, known as the Tanist. The Tanist must be of the current Mayor's family. The candidate with the most votes is announced as the Tanist, a position they hold for life until they succeed the incumbent Mayor.
In the case of the Lord Mayor, who governs the the Inner City of Rabance as well as many matters of the entire Great City of Omac, the Tanist is elected not just by landowners in Rabance but also by the Mayors of the other 4 cities.
Realm Points and Categories
Construction – 0
Commerce – 2
Magic – 0
Military – 0
Religion – 0
Technology – 0
Culture – 2
Area and Population
Area: ~1000km2
Population: 1,000,000
Notable Factions
The Red Company - A mercenary company employed by the Inner City of Rabance as a city guard.
Currency
Coin - A currency that had been around so long that no-one has changed the name
---
This character is owned by: Mobius64
Character questions
Recent Activity
Updated character profile
Apr 30, 2018, 4:41pm
Updated character profile
Apr 28, 2018, 11:40am
Updated character profile
Apr 28, 2018, 11:17am
Updated character profile
Apr 27, 2018, 6:09pm
Updated character profile
Apr 27, 2018, 6:08pm
Updated character profile
Apr 27, 2018, 6:08pm