Summary: I've never really won anything before...
Jayson Forst
Owned by: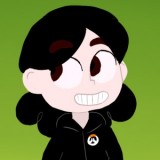 18slash21
Gender: Male
Age: 21
Group: Winners
Game: Willow Peak Lodge (Horror Lovers Wanted!)
Nickname
Jay, Sunshine
Nationality
German/Irish
Physical Appearance
5' 4" with long platinum blonde hair down past his butt with black and pink streaks, vibrant blue eyes, a very feminine figure, several piercings and tattoos.
Personality and interests
Confident and flirty with an optimistic attitude that's impossible to break. He has anxiety but that rarely ever shows through. He can be clingy at times. He absolutely loves fire and loves setting things on fire even more.
History
He's the youngest of three kids and the one with the most sass. He came out as homosexual when he was sixteen by asking out his twenty-one-year-old friend Lucas Hernandez, and his father was cold and cruel to him because of it. He ran away soon after and moved in with Lucas in his apartment, and that's where he's been ever since.
How They Heard About The Contest
Saw a post about it online.
Who Came With Them
Lucas
---
This character is owned by: 18slash21
Character questions
Recent Activity
Mentioned in the post
Here
Jun 25, 2018, 5:46pm
Mentioned in the post
Bear?
Jun 24, 2018, 1:30am
Mentioned in the post
Housecats
Jun 21, 2018, 12:53pm
Mentioned in the post
Story
Jun 18, 2018, 11:07pm
Updated character profile
Jun 9, 2018, 8:22pm
Updated character profile
Jun 9, 2018, 8:22pm
Updated character profile
Jun 9, 2018, 8:10pm
Updated character profile
Jun 9, 2018, 8:08pm
Updated character profile
Jun 9, 2018, 8:08pm
Updated character profile
Jun 9, 2018, 5:02pm
Updated character profile
Jun 9, 2018, 5:02pm
Updated character profile
Jun 9, 2018, 5:00pm
Updated character profile
Jun 7, 2018, 10:46pm
Updated character profile
Jun 7, 2018, 9:41am