Summary: The heir apparent to the Mulligan Dynasty
Liam Mulligan
Owned by: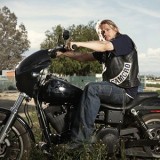 LadyPyra
Gender: Male
Age: 18
Group: Juniors
Game: High School Angst
Grade(students)
Junior
Physical Appearance
Liam is a six foot 2 monster weighing rougly 230. His brown hair is kept short, and his dimples, killer smile and brown eyes have been melting hearts for years.
Personality and interests
Liam is a jock and proud to be the captain of the wrestling and basketball teams. His real passion is football where he's been moved to Linebacker due to his size. He has some what of a mean streak and is quite a bully. He is also a budding filmmaker and has been taping his sexual conquests with plans to release them long after all involved are over the legal age. Though one more recent one could appear sooner.
He can be a bit abusive, and has sadly when in a rage even hurt his sister. He doesn't mean to, but it just happens.
History
The monster of the school as he's been known, Liam kept a secret that even the coach knew about. Liam's massive size came during freshman year when he began juicing. The coah was handing it out to help the team. And the only side effect he's noticed is the rage. He's since quit, and the coach was let go but the rage still happens.
He's made linebacker in the last year, moving from his cornerback position which he likes better, as now he can rough up pretty boy qbs more. He's also a bit of a voyeur having film his conquests over the years. Though the one he wants most is Naomi. She usually turns him down, but recently they went out, and she did some things. To top it off he even had Ms. Lorenzo.
Whenever his rage gets out of hand though, sadly, his sister takes the brunt of it. This has lead to her being hospitalized. He's promised to lay off and during the summer in Paris he never once hit her. Though this has a lot to do with the sudden loss of their mom. They knew it was coming, but it still hit hard. Especially, to Julia.
Extracurriculature Activities/Clubs
Football, wrestling, rugby, basketball, anything sports related, girls, girls, more girls, filmography
---
This character is owned by: LadyPyra
Character questions
Recent Activity
Mentioned in the post
A new year
Apr 18, 2019, 3:08am
Mentioned in the post
Arrivals
Jun 26, 2018, 12:15pm