Summary: Tommy's sister, a closeted lesbian
Cameron Lorenzo
Owned by: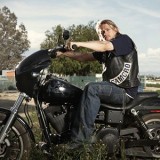 LadyPyra
Gender: Female
Age: 15
Group: Freshman
Game: High School Angst
Grade(students)
I'm a niner, duh
Physical Appearance
Cameron is five foot six weighing one hundred ten pounds over a toned athletic body. She has shoulder length jet black hair and piercing brown eyes that people say bore holes into people. Usually has a smirk on her face.
Personality and interests
A total smart a**, Cameron has a sharp wit, and even sharper tongue. She loves harrassing her brother, though not in league with her cousins who have mastered the art.
She is also a closeted lesbian, swearing she'll come out, if she meets the right one. Not even Tommy knows, though her cousins do. She tried to see guy, but there is no attraction there.
She is also an artist and hopes to do a comic for the school paper. Surprisingly she's also going out for the cheer team, mostly cause her mom did it.
History
Cameron is the youngest of Lincoln and Donna's children. She regrets never knowing her dad before he died, and since it's only been her mom. She once wondered why her mom never remarried then found out why. Cause Uncle Alex keeps forcing his way on her to stay on the ranch. It infuriates Cameron, but what can she do about it. Tell Amanda. Yeah, right, Amanda has her own lovers and wouldn't care.
Cameron enjoys she will be attending Skyler Prep, though is unsure why Janet wasn't accepted. OF all of them, Janet is the straight A student. Course could be cause of Alex blackballing her. Everyone knows he doesn't like the girl. Though Amanda treats her like one of her own. The only thing Cameron fears is when going out for cheer and swim, not gettin in cause she isn't hot. She's not the largest up top, though it doesn't bother her, to be left out cause of it would hurt.
Extracurriculature Activities/Clubs
Does a comic for the school paper, cheer team, gymnastics, swim team
---
This character is owned by: LadyPyra
Character questions
Recent Activity
Updated character profile
Jul 5, 2018, 3:05pm
Mentioned in the post
Cute
Jul 2, 2018, 2:04am
Updated character profile
Jun 24, 2018, 6:11pm