Summary: Social media junkie who wants to start her own hook up app like Tinder
Maria Ramirez
Owned by: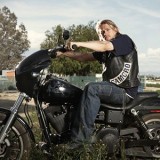 LadyPyra
Gender: Female
Age: 15
Group: Sophomores
Game: High School Angst
Grade(students)
10
Physical Appearance
The first thing people see when looking at Maria is her bright pink hair that is a sharp contrast to her brown skin. She has deep brown eyes and usually is sporting a bright smile on her face. She tries to dress in latest fashion. Sometimes is seen with a flower in her hair
Personality and interests
Maria is really into social media and feels like if you haven't heard of her you must be living in a closet. Overall she is very nice and polite and tries to befriend all. SHe can come off a bit naïve at times though. She's also not the sharpest student, often getting history wrong.
She's also into fashion though she wears what she can afford usually.
History
The hardest adjustment Maria has had to make within the past year is the fact her mama got a new job for the Mulligan family. After which Maria learned the horrifying news it meant that Maria herself was having to change schools. It was an outrage on the grandest scale possible. She was known back home, her social media accounts were blowing up. Now, she would be a nobody and have to start making the climb all over. Didn't her mother know that it was social media suicide. She might as well be living in a cave.
She should be grateful that Mr. Mulligan agreed to pay for her schooling so that Maria could attend Skyler academy with Liam and Julia, but Julia is always so rude, treating Maria like a servant. And she swears she caught Liam looking at her a few times in the shower.
Then, the coup de grace, she caught her mom and Mr. Mulligan in bed together. She had wondered why he was so genorous now wonders will she be calling him dad. No way, her dad was the best, and it was tragic he was no longer with them.
Though worst, her social media would be zero in this new school. ZERO! Social suicide, I tell you.
Extracurriculature Activities/Clubs
Social Media, works with student media, swimming, gymnastics, cheer team, volleyball, soccer, did I mention Social media
---
This character is owned by: LadyPyra
Character questions
Recent Activity
Mentioned in the post
A new year
Apr 18, 2019, 3:08am
Mentioned in the post
New
Jul 22, 2018, 9:20am
Mentioned in the post
Cooldowm
Jul 8, 2018, 5:54am
Mentioned in the post
Round Two
Jul 3, 2018, 7:06am
Mentioned in the post
Arrivals
Jun 26, 2018, 12:15pm