Summary: A former Karate champion, and current Sensei to those who want it.
Toby Miller
Owned by: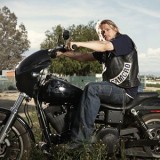 LadyPyra
Gender: Male
Age: 35
Group: Teachers
Game: High School Angst
Class Taught(teachers)
Self Defense class, PE teacher for the boys
Physical Appearance
Toby has short cut blonde hair which he wears a variety of ways including with a black headband. He has a pretty rough face. He's around six three with a 180 build of mostly muscle, thought some has turned to a beer gut. He still has piercing blue eyes, and still can get any woman he wants, except his ex that is.
Personality and interests
Toby can be a bit rough around the edges at times, till you get to know him, then you may see he's not so bad. His goal is to help students build discipline and confidence.
His main interest is to secure his daughter's future, and providing her with the opportunities he never had. He also can't stand bullies, and will stand up to them. This stems from sadly, him being one back in school. He wants to make the world a better place and probe folks can change.
History
The all around bad boy in school his life changed when his girlfriend got knocked up. He did the right thing and married her and he was so proud when his daughter was born. The thing was, the parents were drifting apart and weren't in love. They stayted together for Tammy's sake not wanting to separate while she was young. Toby stayed faithful to his wife though, never cheating on her, to bad it wasn't mutual, and he often came home to find her bed with another.
His love for karate he passed down to Tammy, and became her Sensei. The girl showed real promise and he was honored to say, she was better than he ever was. He so wanted her in the world Championship, but as a former champion he was a judge and she was ineligible as a result. He felt that's when he begin to loose her.
When the divorce finally happened the she withc got custody, and he only got the summers. It sucked but what can you do. She of course didn't waste time in remarrying that douche Richard, totally appropriate name too for a guy like him. Worse, Tammy quit Karate. It was the only other way he got to see her, was as her sensei. His wife won, taking it all from him.
He tried dating, and one of his former students was not bad. Too bad she's more into women it seems. Still they hang out and she is the one who got him a job at Skyler Prep.
Extracurriculature Activities/Clubs
Starting a Martial Arts Club
---
This character is owned by: LadyPyra
Character questions
Recent Activity
Mentioned in the post
Cute
Jul 2, 2018, 2:04am
Mentioned in the post
Arrival
Jun 26, 2018, 1:00pm