Summary: Stick with me, for I shall be your guide.
Ghosteye
Owned by: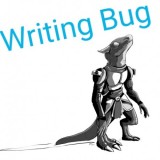 Writing Bug
Gender: Male
Age: Adult
Group: Large Carnivores
Game: Sauria, Land of the Dinosaurs
Species
Suchomimus
Rank in herd, pack or tribe.
He has no rank, but he joins other dinosaurs when he travels.
Home
He lives in a small cave, which is in the forest a few miles from the sea.
Physical Appearance
He has a blue back and an light brown underbelly. He has a red face and his left side is coated with scars.
Personality
Wise and intimidating. He is respectable around other dinosaurs. He usually joins other travelers and guides them through his territory. He may seem intimidating, but this is far from the case
Favorite Food
Fish
Intelligence
Smart for his species
History
He never speaks of his hatchling life. He claimed his territory after fighting a Ceratosaurus that was trying to catch fish in the area. To this day he has protected it and the dinosaurs within very respectably.
Other Information
He has the ability to remember landmarks and routes. He never gets lost
---
This character is owned by: Writing Bug
Character questions
Recent Activity
Updated character profile
Jun 17, 2018, 2:28am