Summary: Former sheriff, former drug addicted human refuse, now renewed with purpose.
Miles Daniels
Owned by: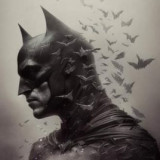 Avenuewriter
Gender: Male
Age: 34
Group: Locals
Game: Jackalope Crossing
Occupation
Former County Sheriff forced to retire.
Physical Appearance
Tall, with ratty long hair and a messy mustache. Reeks of alcohol.
Personality and Interests
Very charming with a dark side since it makes no sense he'd of stuck it out as a two-bit sheriff when he seems to have the skills for much more.
After being shot he developed a drug habit which was part of the reason he was "retired." He's yet to kick the addiction, and being jobless doesn't help.
Since discovering the seemingly revived "Nate" he has been changed with a renewed sense of purpose.
History
Daniels was the county sheriff and spent a good portion of his time in Jackalope Crossing as it seemed to slither with a number of unsavory characters. He eventually caught wind of a failed gas station robbery and sussed out that the now-dead robbers had also stolen three million dollars from Johnny Castagnacci. He went to confront Antonio Vargas and Rayne Lee in an attempt to line his pocket with some ill-gotten money but was inadvertently shot when wannabe-hitman Trip Preacher attacked Vargas's home.
The wounds he sustained never properly healed and he eventually grew dependent on vicodin and other narcotics, soon developing a full-blown addiction which subsequently destroyed his career. However, due to his excellent service in the past, he was given the opportunity to "retire" instead of facing charges for his drug use and questionable policing.
He now lives in the Jackalope Crossing trailer park, spending most of his time drunk, high, or preferably both. A sad state for a once great sheriff.
Since finding the remnants of the Kakabel base in the mountains and joining "Nate" he has been changed. With strange new abilities and renewed sense of purpose.
Favorite Sayings
Ain't this friendly?
---
This character is owned by: Avenuewriter
Character questions
Recent Activity
Updated character profile
Jul 28, 2019, 3:45pm
Updated character profile
Jul 28, 2019, 3:18pm
Updated character profile
Jul 28, 2019, 3:13pm
Updated character profile
Jul 28, 2019, 3:11pm
Updated character profile
Jul 28, 2019, 3:11pm
Mentioned in the post
Rollin' In
Mar 22, 2019, 4:11pm
Mentioned in the post
Fallout
Feb 27, 2019, 2:33pm
Updated character profile
Feb 8, 2019, 4:23am
Updated character profile
Aug 24, 2018, 5:19pm
Updated character profile
Jun 21, 2018, 2:05pm