Summary: A gun-obsessed survivalist with more bullets than brain cells.
Trip Preacher
Owned by: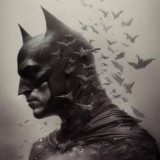 Avenuewriter
Gender: Male
Age: 48
Group: Missing
Game: Jackalope Crossing
Occupation
Unemployed
Survivalist
Gun nut
Whack job
Physical Appearance
Trip stands at about five feet, ten inches tall with wild, unkempt, blonde hair and a set of blue eyes that always seem to be trying to escape from his skull.
He is often seen wearing camouflage shirts and pants or military fatigues he's purchased at various military surplus stores.
Personality and Interests
Trip is nuts. A gun fanatic with a love for all things military to the point it's been rumored he eats gun powder in his cereal. When he isn't going into the desert to keep his "survival" skills sharp and empty a few dozen clips of, illegally obtained, armor-piercing ammo into helpless cacti and explodin' the occasional varmint; he's at home cooking up numerous bizarre conspiracy theories or taking up odd jobs to support his hobbies. Some of them not-so-savory.
History
Despite calling himself "The Colonel" there is no evidence suggesting Trip ever served in the military. He was born and raised by an overbearing mother in Arizona and was constantly picked on as a kid until he discovered a love of martial arts, firearms, and military tactics.
At twenty-three joined a local militia situated in New Mexico that ended up being raided by the FBI. Trip spent two years in prison after ratting out his compatriots for a deal. Afterward he ended up wandering into Jackalope Crossing and put down roots, living out in the boonies and rarely going into town unless for groceries.
Favorite Sayings
It's Colonel to you, pissant.
---
This character is owned by: Avenuewriter
Character questions
Recent Activity
Mentioned in the post
The end
Jan 20, 2019, 6:31pm
Mentioned in the post
Hell Yeah
Jan 3, 2019, 10:25am
Mentioned in the post
Help!
Jan 2, 2019, 12:06pm
Mentioned in the post
Rest.
Dec 24, 2018, 10:48pm
Mentioned in the post
Preparing
Dec 24, 2018, 8:58pm
Mentioned in the post
Talk
Dec 24, 2018, 1:38pm
Updated character profile
Nov 4, 2018, 12:56pm
Updated character profile
Jul 8, 2018, 8:42pm