Summary: A doctor and surgeon who operates within the criminal underworld.
Ira Cane
Owned by: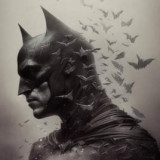 Avenuewriter
Gender: Male
Age: 43
Group: Vegas Folk
Game: Jackalope Crossing
Occupation
Doctor
Underworld Physician
Physical Appearance
A man of average height with a square jaw and brown hair and blue eyes.
Personality and Interests
A no-nonsense, yet witty person with a passion for literature and the occasional dip into his own morphine supply.
History
Ira was once a promising surgeon living in Illinois who ended up losing his license after a patient was killed during a botched surgery which Ira ended up taking the blame for.
He spent years as a toll booth operator until he fell into the world of criminal medicine. It turned out, he could make quite a living patching up criminals who would otherwise end up being reported to the authorities had they visited a real doctor. He first started out patching up bullet holes and stab wounds with improvised instruments.
Then he caught the attention of Johnny Castagnacci who was so impressed with his skill that he hired him on as his personal physician and helped him open an illicit practice. Some years later Johnny was able to "pull some strings" and get his license back to practice "legit medicine." However, this is a front. In reality Ira, or as many in the criminal underworld call him "Mr. Stitch," runs a medical practice where his clientele is primarily criminals.
Favorite Sayings
"Mr. Stitch can fix it."
---
This character is owned by: Avenuewriter
Character questions
Recent Activity
Mentioned in the post
Rollin' In
Mar 22, 2019, 4:11pm
Mentioned in the post
Gambit
Mar 6, 2019, 4:14am