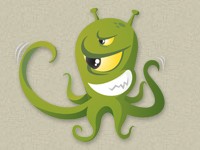 Summary: I just wanna leave.
Chantelle Reyes-Ralson
Owned by:
Shade64
Gender: Female
Age: 21
Group: Locals
Game: Jackalope Crossing
Occupation
Assistant Manager of the Video Rental Store
Physical Appearance
Standing at 5' 6", Chantelle is solidly-built and light-skinned. She has dyed slate-blue hair and small silver eyes.
Personality and Interests
Chantelle is quite a depressed young woman, disliking pretty much everything about her life. She wishes to leave Jackalope Crossing but has nowhere to go. She has trouble making friends and seems to always be at her mother's when not at work. She has quite a sweet tooth, especially for chocolate bars, but won't admit it.
History
Chantelle was born to a now-divorced couple. Mrs. Reyes is a disabled woman who always seems to be away from her home in Jackalope, while Mr. Ralson is a flight attendant who hasn't been back in Jackalope Crossing in over a decade. Chantelle didn't really have much support, if any, so she learned how to look after herself. She got her job at the rental store when she was 17 and has been working there ever since.
Favorite Sayings
"Sorry, can't help ya."
---
This character is owned by: Shade64
Character questions