Summary: "Without proper intel, you'll be filling body bags with more than just bad guys."
Vincent Dobeck
Owned by: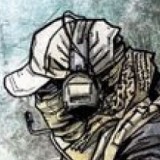 Matticus4205
Gender: Male
Age: 32
Group: Task Unit 32
Game: The Shadow Conflict
Nationality
Polish/American
Job
ISA Team Leader
History
Born of Polish immigrants who migrated to the United States in the 90s, Vincent Dobeck was no stranger to conflict. Born and raised in Brooklyn, Vincent knew two things, if you couldn't defend yourself then you would always be a victim and the streets were never silent. If you wanted to find information on something or someone, the streets were where you'd find it. That doesn't mean Vincent did nothing but lived his life on the streets, he went to school and managed to graduate high school and go to college. After a year or so he discovered that college wasn't a place for him so he decided to enlist into the US Army at the age of 19. Once he made it through basic training he was assigned to the 1st Stryker Brigade Combat Team where he served for six years before going through Airborne School and then volunteering for Selection into Army Special Forces (The Green Berets). Showing prowess and commitment he passed Selection and was then assigned to the 3rd Special Forces Group. After 3 years he was then selected for the "Activity" as the ISA were known as.
Appearance
Stands at roughly 5' 11", well built with a well groomed beard and moustache.
Gear: Kitanica - American Softshell (Wolf Grey), UF Pro - P40 Tac 2 Pants (Brown Grey), Salomon - Quest Prime GTX Shoes (Black), PIG - FDT Alpha Gloves (Black), Mayflower - UW Chest Rig Gen IV (Ranger Green), T.Rex Arms - Light Compatible Ragnarok Holster (Black), HSGI - Thigh Rig (Black Left Thigh)
Personality
(Classified)
---
This character is owned by: Matticus4205
Character questions
Recent Activity
Mentioned in the post
look out
Aug 12, 2018, 10:56pm
Mentioned in the post
Driver
Aug 1, 2018, 11:27pm
Mentioned in the post
Casual
Jul 15, 2018, 4:00pm
Mentioned in the post
Quick fix
Jul 13, 2018, 4:19am