Summary: I will destroy you!
Rok the Destroyer
Owned by: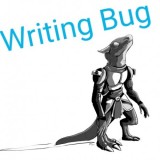 Writing Bug
Gender: Male
Age: Young Adult
Group: The Awakened Heroes
Game: Engines of Chaos
Nationality, Place of Origin, and Race
He was born on the planet Boulder. He is a Rorarkian.
Physical Appearance and Preferred Attire
He is around two feet tall and has grey, stone like skin. He has a large nose crest and stubby legs. One of his arms has a laser cannon attached. He wears plates of metal on different parts of his body.
Job, Rank, and/or Title(s)
Bounty Hunter
Second in command of Nrak's two member crew.
Personality Quirks, Interests, and Goals
Energetic and excitable. Likes flashy lights and rock candy. His main goal is to help the good by stopping the bad.
Powers, Skills, and Strengths
Extreme strength and can run for long distances. He can curl up into a ball and roll down hills for quick escapes. He is good with hand to hand combat. He can also use his blaster with precision.
Weaknesses, Flaws, and Limitations
He is clumsy and not as smart as most people. His height poses disadvantages during combat. He likes laying around and snacking on food.
Backstory
Rok was born into an impoverished family on a crime ridden planet. He grew up around abuse and greed and quickly realized he wanted this to end. So he devoted his life to catching these people and became a bounty hunter. A few years of doing this allowed for him to meet Nrak on another mission and they became teammates and best friends.
Writer Goals for Character and Ideal Posting Frequency
Find a home for Rok with Nrak. The posting frequency will be the same as with Nrak
Miscellaneous Player Comments and Moderator Comments
He and Nrak are inseparable best friends and will always stick together.
---
This character is owned by: Writing Bug
Character questions
Recent Activity
Mentioned in the post
That Look
Sep 15, 2018, 9:20pm
Mentioned in the post
☮️
Sep 4, 2018, 5:49pm
Updated character profile
Sep 2, 2018, 12:48pm
Mentioned in the post
Get Tense
Sep 1, 2018, 12:57pm
Updated character profile
Jul 24, 2018, 2:40pm