Summary: Far over, the misty mountains cold, from dungeons deep, to caverns old.
Rock Armorbreaker (Rok)
Owned by: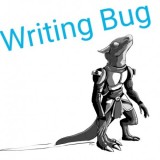 Writing Bug
Gender: Male
Age: Young Adult
Group: Others/Unknown
Game: Engines of Chaos
Nationality, Place of Origin, and Race
Dwarven, born in the Dwarven kingdoms of the west. Mercenary for Dalen. (Roks Disguise.
Physical Appearance and Preferred Attire
Rock is an stout dwarf, with long, black hair and a bushy beard. He has a scar over his left eye, and is missing an pinkie on his left hand. His hair is tied, and certain parts habe bands of metal holding it, a Dwarven custom. He wears metal armor, carved with Dwarven runes and artwork. He carries an mighty warhammer and an short sword.
Job, Rank, and/or Title(s)
Dwarven Mercenary and Traveler.
Personality Quirks, Interests, and Goals
Same as Rok.
Powers, Skills, and Strengths
Same as Rok, except more proficient in melee weapons.
Weaknesses, Flaws, and Limitations
Same as Rok, except less cute.
Backstory
Rock is an infamous dwarf, although he lacks an reputation in Dalen, he was an criminalized mercenary in his homelands. He left these lands when his head had a bounty. To this day, he helps people by protecting them, for a good amount of coin.
Writer Goals for Character and Ideal Posting Frequency
Allow for this disguise to be used whenever Rok enters a fantasy world.
Miscellaneous Player Comments and Moderator Comments
Nothing more.
---
This character is owned by: Writing Bug
Character questions
Recent Activity
Mentioned in the post
That Look
Sep 15, 2018, 9:20pm
Updated character profile
Sep 9, 2018, 10:34pm